MoviePass Owner's Loss Ballooned Last Quarter
(Bloomberg) -- MoviePass, the beleaguered theater subscription service, lauded its achievements Wednesday even as shares of its parent company plumbed fresh lows.
After reporting ballooning losses Tuesday, parent Helios & Matheson Analytics Inc. issued a celebratory statement marking the year since it bought MoviePass. Despite financial troubles, the service has attracted millions of subscribers with the promise of seeing movies in the theater for $9.95 a month.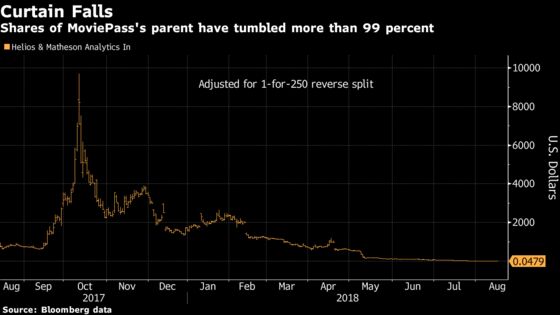 "Measured by number of movie tickets sold, we are the fourth largest theater chain in the country without any brick-and-mortar locations, or screens," said Mitch Lowe, chief executive officer of MoviePass. "It's an amazing milestone considering we feel like we've just begun."
The long-term viability of MoviePass is still in question, as auditors in a filing questioned its ability to keep operating over the next year. While the company's aggressive pursuit of new subscribers -- they now exceed 3 million -- led to a huge cash drain, the company forced theater chains to offer their own subscription plans. Some analysts now wonder if the possible demise of MoviePass will lead to lower ticket sales for theaters.
Helios & Matheson fell as much as 36 percent to 1.8 cents in New York before recovering to gain 8 percent. The stock has lost almost all of its value this year.
To stem the cash drain, MoviePass rolled out a new model Wednesday that limits subscribers to just three movies a month, less than what major exhibitors now offer. The change will cut the cash deficit by about 60 percent, the company said.
In its announcement, MoviePass said it accounts for 6 percent of all movie tickets sold in the U.S. in any week and has purchased over $450 million worth of tickets in the past year. It said it has partnered with two major studios and 10 distributors, without naming them.
A critical issue for MoviePass is that it continues to sell subscriptions at a loss, paying full price for tickets while offering customers the opportunity to see about a three films a month for less than $10. Subscription sales totaled $72.4 million last quarter. Its other revenue sources -- the hoped-for share of ticket sales and concessions from theater owners or advertising revenue -- came to less than $2 million.
Overall, Helios & Matheson reported a second-quarter operating loss of $126.6 million, compared with a $2.74 million deficit in the year-earlier period, according to a filing Tuesday.
"We've reached an important point in our company where, after a year of research and analysis, we believe we have fine-tuned the MoviePass business model to fit our unique growth rate," Helios & Matheson CEO Ted Farnsworth said in the statement. "Under the new plan, we believe we are creating a more sustainable path for MoviePass and its loyal subscribers."