U.S. to Return Two Philippine Church Bells Seized a Century Ago
(Bloomberg) -- The U.S. will return a set of church bells to the Philippines seized as war booty by American soldiers more than a century ago as it looks to mend ties with firebrand President Rodrigo Duterte.
U.S. Defense Secretary Jim Mattis last week told Congress of the plan to return the bells, which were seized from the burned-out belfry of a church following a 1901 attack by Filipino independence fighters that killed 54 American soldiers, a Pentagon spokesman said.
For more than two decades, the Philippines has asked for the bells to be returned to the Church of San Lorenzo de Martir in the central town of Balangiga. Duterte, whose pivot toward China has strained ties with the Philippines' sole treaty ally, has also brought up the issue.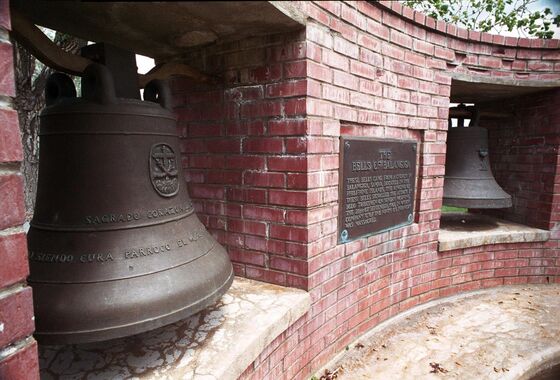 War Memorial or Booty? Philippine Bells Defense Bill Flashpoint
"We welcome this development as we look forward to continue working with the U.S. Government in paving the way for the return of the bells to the Philippines," Harry Roque, Duterte's official spokesman, said in a statement over the weekend.
Under the U.S. National Defense Act, Congress has 90 days to decide whether to overrule the secretary's decision. Mattis is required to certify in a classified annex to his notice that returning the bells is in the national security interests of the U.S.