ECB Must Shield Italy, Others From Speculation, Borghi Says
(Bloomberg) -- The European Central Bank should keep providing a shield to the government securities of all monetary union members to avoid a dismantling of the entire euro system, a top lawmaker from Italy's ruling coalition said.
"There cannot be a system at the mercy of market movements" without any shields by the central bank, Claudio Borghi, the euroskeptic head of the budget committee in Italy's lower house, said in an interview on Monday. "Nowadays there is a system that has a residual amount of quantitative easing, but with everybody knowing that this is being phased out and will come to an end soon."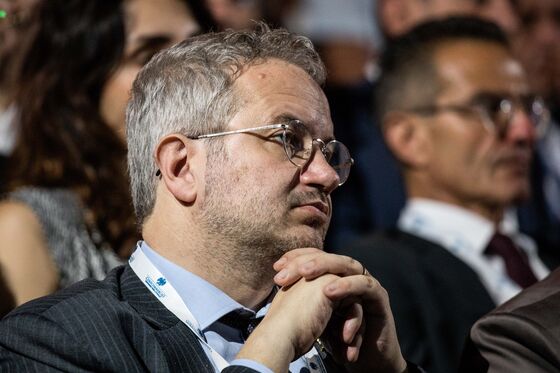 Italy's 10-year bond yield fell 5 basis points to 3.05 percent on Tuesday, but still stayed close to the highest since the government took power in June. The yield spread with similarly dated German bunds eased 7 basis points to 272 basis points. The spread had been below 150 for much of the first half of the year.
The League lawmaker's call for the ECB to provide a guarantee to the periphery of the euro region follows two separate posts on Twitter in which he noted that the spreads of bonds issued by other nations such as Spain's over Germany's are also widening. He added that "either the ECB guarantee will come or everything will be dismantled" in a reference to the euro system.
With investors turning against Turkey, the government in Rome is trying to avoid Italy being next in line. Italy has had contacts with the ECB to discuss the risk of a speculative attack on its debt, a person familiar with the situation said earlier on Monday.
"It is significant that an external event like Turkey that has nothing to do with Italy unleashes such an effect," lawmaker Borghi said. "All know the fence that protects the prey will soon be lifted and the financial speculation easily sees the periphery's debt as an easy target and is positioning itself ahead of the next developments," he said in a reference to the phasing out of the ECB's bond-purchasing program.
Italian Prime Minister Giuseppe Conte, deputy prime ministers Luigi Di Maio and Matteo Salvini, and Finance Minister Giovanni Tria held a conference call Monday to continue their discussions on the 2019 budget. "The program's framework reconciles the continuation of the government objectives with the stability of public finances, and in particular the continued path of reducing the debt ratio of gross domestic product," said a statement from the premier's office released on Tuesday.
Earlier in the week, deputy premierDi Maio sought to tamp down concerns of a selloff. "I don't see a real risk that this government will be attacked, it's more a wish of the opposition," Di Maio said in an interview with newspaper Corriere della Sera on Monday.