Icahn's Retreat May Hand Cigna a Pyrrhic Victory
(Bloomberg Opinion) -- Cigna Corp. won an unusual and very fast victory against Carl Icahn. The activist investor announced Monday night that he was dropping his nascent effort to block the health insurer's $54 billion takeover of pharmacy benefit management giant Express Scripts Holding Co.
Cigna may end up regretting its win,  though. Icahn's crusade was financially motivated, but he was right to point out the escalating risks of this deal.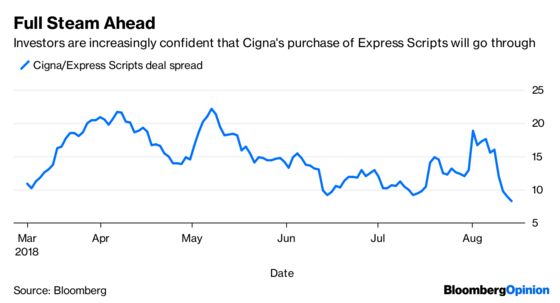 Winning a proxy fight he started just a few weeks before shareholders were due to vote proved impossible even for Icahn —  but he was late for a good reason. The risks surrounding the deal have only come to the fore lately, as it's become clear the Trump administration would be targeting PBMs as part of its efforts to bring down drug prices. The objects of its ire are drug rebates —  the payments pharma companies send PBMs to ensure their medicines are covered by insurers. The rebate system allegedly plays a role in ever-rising prices, and the administration is pondering rules that may aim to shift the entire industry to a more transparent and likely less profitable model. 
This regulatory threat is a large and risky swing factor for the deal, even if Cigna publicly argues otherwise.
Cigna claims that Express Scripts retains about $400 million in rebates, which would represent a fraction of the company's $7.4 billion in 2017 Ebitda. But that is a selective figure that doesn't include rebates from some sources, and likely doesn't paint the whole picture of how PBMs profit from the discounts they negotiate on behalf of clients. Bob Herman at Axios has done some interesting reporting on PBM contracts which suggests that there are a variety of carve-outs and fees that may generate profits for PBMs even when they aren't explicitly keeping a chunk of rebates. 
The so-called gross-to-net bubble — the difference between the price drugmakers charge and what they actually end up keeping after rebates — has grown massively as PBMs have consolidated and grown more profitable. The notion that the PBM business would be nearly as effective or profitable in a post-rebate world just doesn't pass the smell test.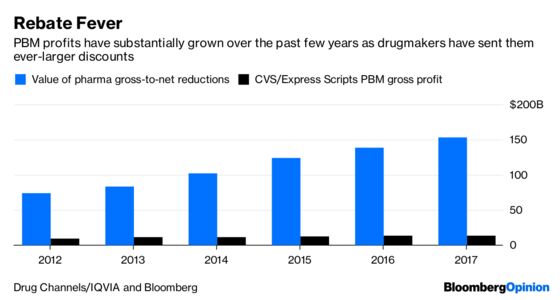 The rebate threat may never materialize, or or may be confined to the smaller government market. And Cigna's drug-cost savings may be such that any changes won't matter. 
Assuming the deal goes through, Cigna shareholders will be on the hook for a $54 billion bet on that outcome. If the Trump administration comes down hard, they may well wish they took Icahn's out.
This column does not necessarily reflect the opinion of the editorial board or Bloomberg LP and its owners.
Max Nisen is a Bloomberg Opinion columnist covering biotech, pharma and health care. He previously wrote about management and corporate strategy for Quartz and Business Insider.