VF Sheds Its Wrangler Jeans. But for What?
(Bloomberg Opinion) -- VF Corp.'s brands are better known than the company itself. And it just shed some big ones.
The $36 billion company behind North Face jackets and Vans shoes on Monday announced it would sharpen its focus on outdoor and active wear by spinning off its jeans division. This unit includes the Lee and Wrangler labels, both of which VF has owned for decades, and generates more than $2.5 billion of annual revenue, or almost 19 percent of total company sales. It's only the latest divestiture for VF, which in the past two years has sold off labels including 7 for All Mankind, Splendid, Nautica and Majestic licensed sports apparel.
The move makes sense, as those brands have largely struggled to stay relevant and expand. But it's also striking to hear a rallying cry of simplification and focus out of a company like VF, whose business model has historically been predicated on accumulating new brands in a range of areas. This suggests a new level of depth to the assault on the conglomerate model. The "synergies" that bind various divisions together are getting more tenuous even at companies that by some measures would already be considered focused.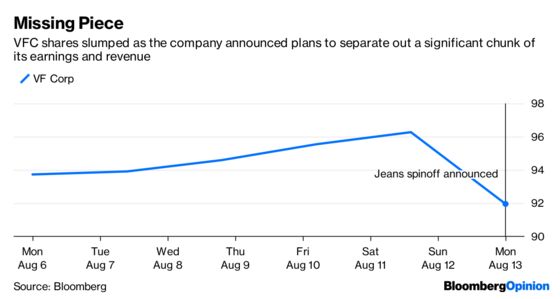 After all, at the end of the day, Wrangler jeans and North Face jackets are both types of clothing. But they don't draw the same customer base and they aren't necessarily made via the same supply chains or sold through the same markets anymore. Part of that has to do with the advent of digital technologies and consumers' changing preferences, but I also think there's something to be said here for the benefits of a clean, simple story.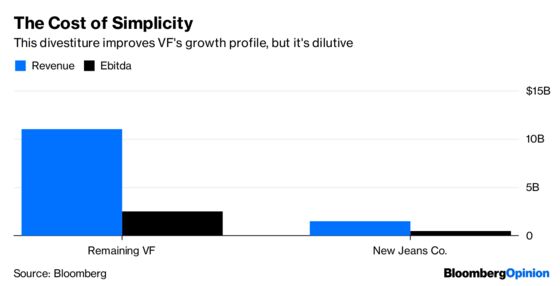 At VF, investors responded poorly to this latest round of streamlining. That seems to have less to do with the idea of simplification and more to do with the fact that the company is parting with a decent chunk of annual revenue — and almost 25 percent of its annual Ebitda — with no immediate plan to offset that beyond adding debt to the spinoff. So while the divestiture will improve VF's growth profile, it looks likely to be dilutive to its current earnings and revenue base. That's a hole VF will need to fill with acquisitions.
VF has had luck over the past few years finding desirable takeover targets after a lengthy deal drought. The biggest of these was work-wear maker Williamson-Dickie Manufacturing Co., which it acquired for $820 million last year. Investors will have to hope that trend continues.
Lululemon Athletica Inc. has long been a speculated target for VF and would fit well with its new narrowed focus on active wear. But the more than doubling of the yoga-pant company's stock price over the past year and the appointment of a new permanent CEO suggests that VF has missed its window there. Smaller takeovers of private equity-owned assets may be the more likely route. Possibilities include Eddie Bauer and Pacific Sunwear, which are set to be combined in a new operating company by private equity owner Golden Gate Capital. Or Altamont Capital still has a number of action-sports brands.
The conglomerate model may be dead, but there are still deals to be had.
This column does not necessarily reflect the opinion of the editorial board or Bloomberg LP and its owners.
Brooke Sutherland is a Bloomberg Opinion columnist covering deals and industrial companies. She previously wrote an M&A column for Bloomberg News.