Treasury Traders Defy Fear Stirred by Emerging-Market Turmoil
(Bloomberg) -- Rates traders are showing little concern that the Turkey-induced turmoil spreading across emerging markets will extend stateside. Yields held steady Monday and strategists saw limited potential for a surge in safe-haven demand.
Treasuries posted modest gains last week, but are still trading well within recent ranges. The market hasn't picked up a strong flight-to-quality bid, even as Turkey stares down a growing financial crisis, and nations from Argentina to South Africa start to feel the stress. The 10-year yield was virtually unchanged Monday, while Bank of America Corp.'s MOVE Index, a measure of volatility, remained below its one-year average.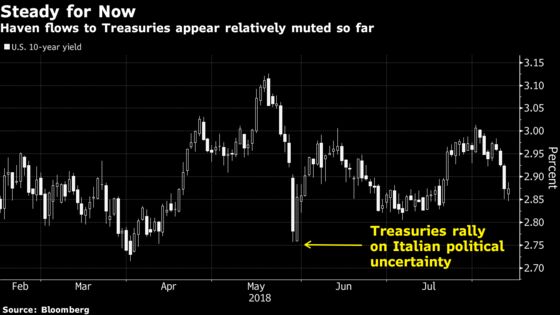 "There's a little more willingness today in the market to think that the situation in Turkey might not be systemic," said Subadra Rajappa, a rates strategist at Societe Generale SA.
Monday's holding pattern leaves the 10-year yield hovering around 2.87 percent, roughly 10 basis points off last week's peak. That's still well shy of the last globally driven market squall in May, when Italy's struggle to form a government helped push the U.S. benchmark down to 2.78 percent.
Action in the front end has also been relatively muted as investors see little likelihood that the conditions in emerging markets will persuade the Federal Reserve to backtrack on its policy-tightening plans. Traders continue to almost fully price in a rate increase at the Federal Open Market Committee's September meeting, based on fed funds futures pricing. The balance of pressures related across the curve has left the two- to 10-year spread relatively steady at around 26 basis points.
Treasuries could break out of their holding pattern if progress is made to resolve the standoff between the U.S. and Turkey, which led President Donald Trump to double down on tariffs targeting Turkish steel on Friday. Rajappa said positive news on this front could send the 10-year yield tracking back toward the 3 percent level it rejected earlier this month.
In the meantime, the strength of the U.S. economy is likely to keep the Fed moving ahead, unless a more severe downturn in global markets starts to impact financial conditions at home, she added.
"Fundamentally, the momentum seems to be there for the third quarter," Rajappa said.