Rand Traders Brace for Turmoil as Turkey Saps Risk Appetite
(Bloomberg) -- Traders are positioning for more turmoil for the rand as Turkey's financial crisis damps risk appetite among emerging-market investors.
The rand's one-month implied volatility against the dollar soared by the most since December 2015 on Monday. The South African currency plunged by the most in about a decade during Asian trading hours, but has since pared its decline. The yield on benchmark government bonds climbed above 9 percent for the first time since June.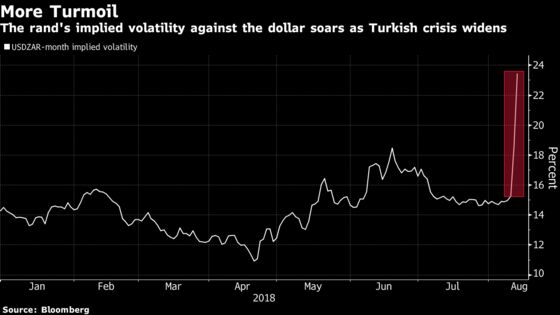 "The rand and other emerging-market currencies have fallen victim to contagion after the Turkish lira sold off to record lows," Zaakirah Ismail, an analyst at Standard Bank Group Ltd. in Johannesburg, said in a client note. "We remain wary of recurring rand weakness because of the pervasive uncertainty affecting risk sentiment."
The rand, which slumped as much as 9.4 percent during early trading hours when liquidity is thin, was 2.3 percent weaker at 14.4209 by 12:43 p.m. in Johannesburg. It has dropped 7.6 percent in the past four trading sessions.
The MSCI Emerging Markets Currency Index fell to the lowest in over a year after Turkish President Recep Tayyip Erdogan showed no signs of backing down in a standoff with the U.S. administration. Traders are cutting their holdings of developing-nation assets on concern Turkey is sliding toward a full-blown financial crisis.
As the Turkish crisis worsened, foreign investors dumped a net 5.16 billion rand ($357 million) of South African rand bonds on Friday, the most in two months and bringing net outflows for the week to 6.45 billion rand, according to JSE Ltd. data. That's putting pressure on the rand as South Africa needs portfolio inflows to finance a current-account deficit, which widened to 4.8 percent of gross domestic product in the first quarter.
The rand's expected price swing against the dollar over the next month, based on prices of options to buy and sell the currency, jumped 4.85 percentage points Monday to 23.45 percent. The premium of options to sell the currency over those to buy it, known as the 35 Delta risk reversal, climbed 40 basis points to 3.7 percentage points, the most since April 2017.
Yields on benchmark 2026 government bonds climbed 22 basis point to 9.07 percent after rising 18 basis points on Friday. Yields on dollar debt due 2028 rose 13 basis points to 5.87 percent.