All of Monsanto's Problems Just Landed on Bayer
(Bloomberg Opinion) -- The true price of Bayer AG's purchase of Monsanto Co. is suddenly in doubt after the U.S. crop science behemoth lost a court case over claims its Roundup weed killer causes cancer.
The verdict wiped 12 billion euros ($14 billion) off the German drugmaker's market value on Monday – about 20 percent of the total value of the acquisition.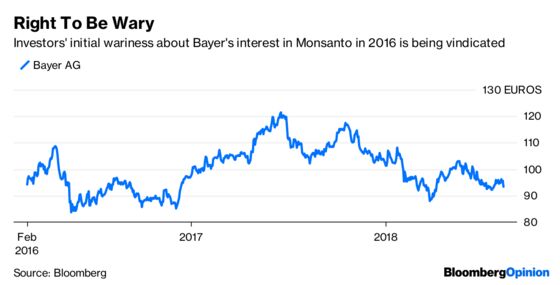 An over-reaction? It's just too soon to know.
On Friday, a San Francisco state court hit Monsanto with $289 million in damages. The company, owned by Bayer since June but operating separately pending the completion of antitrust conditions, says the product is safe. It plans to appeal.
Money managers were already cautious about Bayer before the verdict. The stock was trading at a substantial discount to its peers in the pharmaceutical industry. The possibility of an adverse outcome for the company must have been a part of that.
But few were prepared for this. Bayer shares fell to as a low as 80.37 euros in European trading. Just two months ago, a group of banks underwrote a 6 billion-euro rights offering at 81 euros a share to help finance the Monsanto deal. Back in 2016, Bayer sold 4 billion euros of mandatory convertible bonds with a minimum conversion price of 90 euros.
It's possible Bayer has made a terrible miscalculation in buying Monsanto. It had been planning to jettison the Monsanto name – small wonder given the company's controversial reputation thanks to its focus on genetically modified crops. But, it turns out, that isn't the only liability it inherited.
Glyphosate, the key chemical in Roundup, accounts for about 2 to 3 percent of Bayer-Monsanto's combined earnings, according to Baader research. Not only are these threatened by the litigation, but Bayer could also face a big damages bill.
Given the appeal process, the final outcome of the case and the resulting costs are hard to predict. The market reaction looks excessive relative to some precedents: Merck & Co. agreed to pay $4.9 billion to settle thousands of lawsuits relating to painkiller Vioxx in 2007. But, if you assume that thousands of other plaintiffs win similar damages, the eventual cost would be a multiple of Bayer's market value.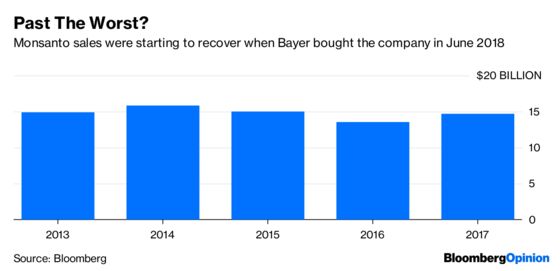 The Monsanto takeover had become less expensive since it was agreed in 2016, supported by favorable currency movement and Monsanto's efforts to reduce its debt burden. Those benefits look nugatory. Bayer's stock is roughly 20 percent below where it was before the company's interest in its U.S. target leaked.
CEO Werner Baumann chose to pay for Monsanto entirely in cash, boosting leverage to finance the deal. His shareholders didn't have a say and weren't asked to make much of a contribution. While Monsanto's former shareholders are completely off the hook, their Bayer counterparts look uncomfortably exposed.
This column does not necessarily reflect the opinion of the editorial board or Bloomberg LP and its owners.
Chris Hughes is a Bloomberg Opinion columnist covering deals. He previously worked for Reuters Breakingviews, as well as the Financial Times and the Independent newspaper.