Italian Populists Fight Contagion From Turkish Markets
(Bloomberg) -- With investors turning against the nationalist government in Turkey, the populists running Italy are trying to make sure they aren't next in line.
The government has had contacts with the European Central Bank to discuss the risk of a speculative attack on its debt, a person familiar with the situation said Monday. Deputy Prime Minister Luigi Di Maio sought to tamp down concerns of a selloff as the risks priced into government bonds reached the highest since the coalition took power at the start of June.
"I don't see a real risk that this government will be attacked, it's more a wish of the opposition," Di Maio said in an interview with Corriere della Sera published on Monday. A junior minister from Di Maio's coalition partner said over the weekend that he suspected establishment forces in Rome and Europe were working against the administration.
Italy has been on the front line for any market selloff since March's inconclusive election result paved the way for Di Maio's Five Star Movement to stitch together an alliance with the anti-immigration League. The government has pledged tax cuts and new benefit spending that have fueled concerns about the country's public finances.
"What's most worrying is that the Italian government still appears to be in a fighting mode," said Claus Vistesen, chief euro-zone economist at Pantheon Macroeconomics in Newcastle, England. "It seems to welcome a potential confrontation with the EU and markets over its budget, probably because it judges that it gains political capital at home by taking such a confrontational line. This is not good news for markets."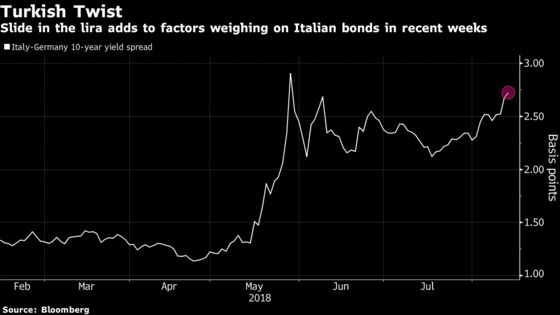 The turmoil on Europe's eastern flank has sent the euro lower and pushed up yields for all the currency bloc's peripheral governments. Italy's 10-year spread over German bunds touched 273 basis points, the most since the coalition took office. The spread over Spanish debt was 166 basis points compared with less than 60 basis points before the coalition came together. Italy's yield curve -- another key barometer of sentiment in the country -- touched the flattest levels since June.
"It's significant that an external event like Turkey that has nothing to do with Italy unleashes such an effect," Claudio Borghi, the euroskeptic head of the budget committee in Italy's lower house, said in an interview. He said the planned phasing out of the ECB's quantitative easing will leave Italy and other peripheral states "at the mercy" of markets.
"The yield is not yet priced for reality," said James Athey, a portfolio manager at Aberdeen Asset Management in London, who is short the securities. "Italian bonds are almost uninvestable, liquidity is poor, volatility is high."
Even before the turmoil in Turkey, investors have been unnerved by conflicting signals about the government's commitment to European limits on its budget deficit as seeks to enact Five Star's citizens income and the League's flat tax. There are also lingering fears about the ties between Italy's banks and its public finances.
The government's first budget plan is due to be outlined in September amid fears that it could choose to increase borrowing to deliver on its election promises. Credit rating reviews from Moody's Investors Service and Fitch Ratings are also coming up.
Some Italian politicians see more sinister motives behind the market's move, recalling the selloff that led to the collapse of Silvio Berlusconi's government in 2011.
"The old establishment in Italy and Europe wants to abort this government to avoid encouraging any populist precedents," Cabinet Undersecretary Giancarlo Giorgetti, the League's representative in the office of Prime Minister Giuseppe Conte, said in an interview with newspaper Libero over the weekend. He said he feared "speculative funds" would use thin summer trading to launch attacks.
"If someone wants to use the markets against this government, they should know we are not blackmail-able," Di Maio said in his Corriere interview. "This is not the summer of 2011 and Berlusconi isn't at Palazzo Chigi," he said -- a reference to the prime minister's residence.