Europe Finally Gets Its Share of Mega Buybacks
(Bloomberg) -- Europe's equity market may finally be getting a hand from the force that has supercharged the U.S. stock rally since the global financial crisis: share buybacks.
European companies have unveiled blockbuster repurchase programs -- from Royal Dutch Shell Plc's $25 billion plan to Diageo Plc's $2.6 billion -- this earnings season as their cash piles swell amid a continued recovery in profits. In non-U.K. Europe, net equity issuance has turned negative for the first time in at least a decade, according to Sanford C. Bernstein, while in Britain it has been below zero for about a year and is now near the lowest since 2013.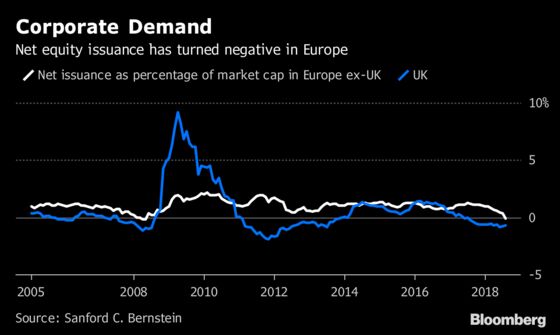 Rising buybacks are a tailwind for European stocks, which are set to underperform the world for a third straight year. It also shows that the joint phenomena of stock repurchases and a shrinking public market have spread beyond the U.S., where some lawmakers have raised concern that capital for investment is being wasted and public access to securities curtailed.
"There's no point putting in all this capex in a much lower-growth environment and there's only so much you can invest for cost efficiency," said Roger Jones, head of equities at asset manager London & Capital. "You've got to that juncture where it's much more accepted that buybacks are a useful mechanism in terms of generating some growth and the mechanism for returning cash to shareholders."
In Europe, repurchases are picking up from a very low base and are still peanuts compared with the record boom in America. Historically, they've always been less common in the region, a discrepancy that's usually attributed to a weaker emphasis on shareholder returns and a stronger one on investment.
But with European earnings set for a third straight year of growth, buybacks are re-emerging, led by the energy and commodity sectors, whose profits have benefited from higher resources prices. Interest rates are also poised to stay near zero for longer in Europe, making it cheaper to finance repurchases.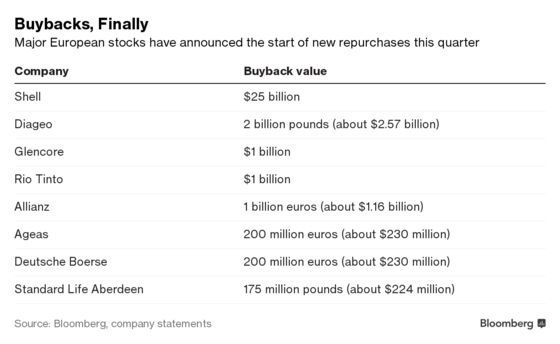 Such programs may be on the way even for European banks that are still in recovery mode. Barclays Plc has tantalizingly signaled a buyback may be on the horizon, while Credit Suisse Group AG's turnaround has fueled speculation a repurchase is coming.
Buybacks are good for the market because they are another source of demand for securities and are often regarded as a sign that management sees their stock as undervalued. Investors also seem to like them: companies that have announced repurchases have outperformed those with sustainable dividends so far this year, according to baskets compiled by JPMorgan Chase & Co., though the gap has narrowed lately.
In the U.S., the buyback boom -- which looks set to exceed $1 trillion on the S&P 500 this year -- has led to a debate over whether simply handing money back to shareholders is the best use of cash. While capital spending there is still climbing, in Europe it's expected to reach the highest since 2008 this year on a per share basis, according to estimates compiled by Bloomberg.
"The constant worry about buybacks is that they may signal a lack of growth opportunities for corporates to invest in. All we can say is that so far that does not appear to be the case," Bernstein strategists led by Mark Diver wrote in a note. "The unprecedented scale of global buybacks vs issuance provides a very useful support for the market against macro headwinds."