Audi's Stadler Likely Turned Blind Eye to Rigging, Court Says
(Bloomberg) -- Suspended Audi Chief Executive Officer Rupert Stadler lost a bid to end his detention in jail, with a German court saying that there is strong evidence that he turned a blind eye to the corporate shenanigans at the heart of the car company's global diesel scandal.
Stadler's bid to be released from jail after more than seven weeks was rejected by the Munich appeals court, which said the evidence backs prosecutors allegations. There's also the risk he may tamper with evidence, the court said in an emailed statement Monday.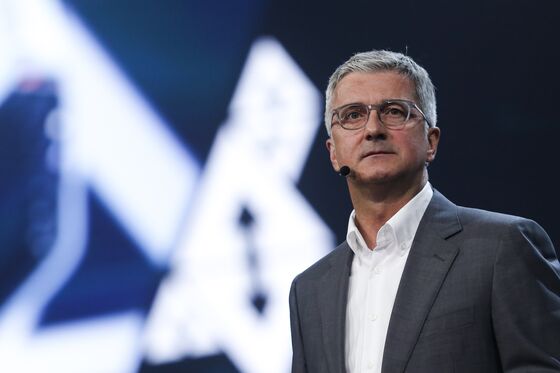 Stadler, 55, is the highest profile executive detained since Audi parent company Volkswagen AG was engulfed in the diesel cheating scandal nearly three years ago. Throughout the crisis, as penalties topped 27 billion euros ($31 billion), Volkswagen rejected claims that senior executives such as Stadler were aware of the criminal scheme that stretched over almost a decade.
There's a strong suspicion that Stadler "allowed the engines to be deployed and to be sold despite knowing about the manipulation or deliberately turning a blind eye on the manipulation," the court wrote.
Stadler's attorney, Thilo Pfordte, didn't immediately reply to emails seeking comment while Audi declined to comment. Stadler's duties as CEO were suspended the day after his arrest at his request.
Stadler, who became a suspect in the Audi probe at the end of May, has been in custody since June 18. Prosecutors claim he was tampering with evidence because of a phone call in which he suggested putting a witness on leave. After his arrest, Stadler agreed to be questioned by prosecutors to allay the suspicions, but what he said didn't sway prosecutors to agree to let him go.