Two of Year's Top Biotech IPOs Set to Face Wall Street Scrutiny
(Bloomberg) -- Two of this year's best-performing biotech listings will be the subject of Wall Street scrutiny on Monday, when sell-side analysts will likely initiate coverage of Allakos Inc. and Crinetics Pharmaceuticals Inc.
On Aug. 13, a 25-day quiet period expires for perhaps the most amicable analysts on Wall Street: those working at banks that underwrote each company's initial public offering last month. That will probably prompt Allakos underwriters Goldman Sachs Group Inc., Jefferies Group and William Blair & Co. to initiate research coverage, and Crinetics underwriters JPMorgan Chase & Co., Leerink Partners and Piper Jaffray Cos. to do the same.
Allakos is the second-best performing biotech IPO of 2018, rising nearly 120 percent since its listing last month. Crinetics is the fourth-best, up almost 90 percent. The pair is crushing this year's average return for biotech IPOs of 11 percent, weighted by deal size, according to data compiled by Bloomberg.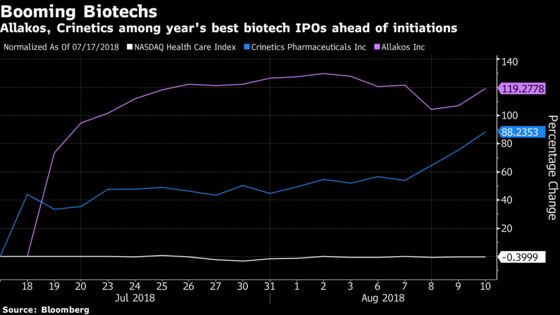 Allakos develops treatments of allergic, inflammatory and proliferative diseases. Crinetics creates therapies for endocrine diseases and cancers, serving clients in California. Bullish calls from Wall Street could push their shares higher on Monday. But if analysts have trouble justifying further upside, their caution might weigh on shares.