Turkish Lira's Plunge Brings Cost Relief for Zara Owner
(Bloomberg) -- The crash in the lira could boost Inditex SA, the Spanish owner of the Zara brand, by lowering its costs for making clothes in Turkey, a key manufacturing base, even as the economic crisis there threatens to hit customer demand.
Turkey, whose currency plummeted as much as 17 percent against the dollar on Friday, is an important source of apparel for Inditex, which also operates the Massimo Dutti and Pull & Bear brands, among others. The lira was down as much as 18 percent against the euro, Inditex's main currency.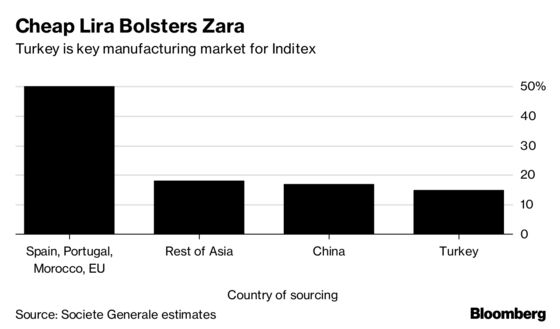 Inditex manufactures about 15 percent of its goods in Turkey, one of its four key production hubs along with Spain, Portugal and Morocco, according to estimates published July 30 by Societe Generale analyst Anne Critchlow. Inditex, whose shares were down 0.2 percent Friday, does not break down how much it sources from each country.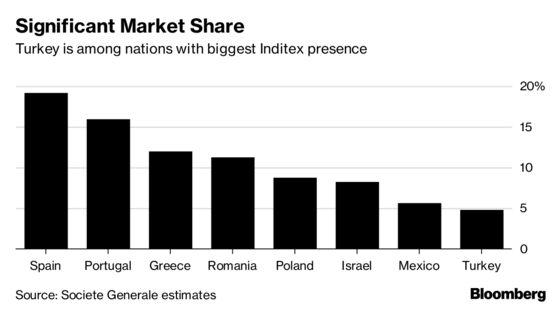 On the other hand, the economic crisis in Turkey could hurt demand for clothes in an important market for Inditex.
The company has a share of about 4.8 percent of the Turkish apparel market, according to Societe General estimates. That makes Turkey the eighth largest market by share among the more than 90 countries where the retailer operates. Inditex had 223 stores in Turkey as of Jan. 31 2017, making it the ninth largest market by number of outlets, according to its annual report.
A press officer for Inditex didn't have any immediate comment when contacted by Bloomberg.