Romanian Farmers Panic Over Order to Contain African Swine Fever
(Bloomberg) -- An outbreak of African swine fever in Romania has fueled panic among local farmers after the European Union's second-biggest corn grower issued confusing statements on what to do with crops in infected areas.
The Agriculture Ministry last week ordered the destruction of crops in areas where wild boars were found to be infected. The country, also a key wheat exporter, later sought to clarify the rules, saying farmers don't have to destroy crops and that areas where infected boars are found dead will be quarantined.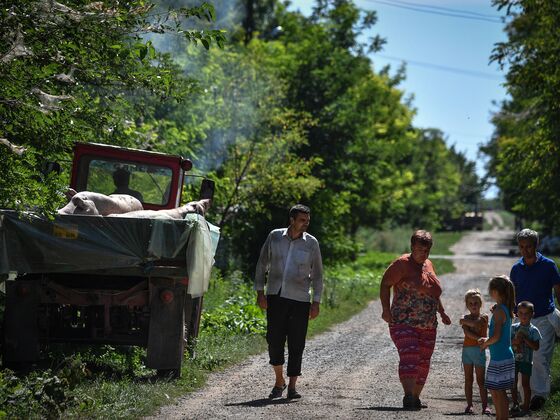 Romania, which benefits from dark fertile Black Sea soils, has had almost 550 outbreaks reported since July 31, according to the national veterinary and food safety authority, or ANSVSA. Steps to stop the spread of the disease, which is deadly for pigs but harmless to humans, comes as farmers are contending with a smaller wheat crop after too much rain.
"The order was very unfortunate and caused panic among farmers because of the potential damages," said Laurentiu Baciu, president of the League of Romanian Farmers Associations. However, it "made some traders happy because they could ask for lower corn prices from farmers."
Destroying crops would compound losses for farmers already expected to harvest about 20 percent less wheat than last year, partly after rains flooded fields. At the same time, scorching heat and dryness has hurt crops in key exporters in other EU countries, while output in top shipper Russia is set to drop for the first time in six years, helping global prices to rally.
Outbreaks of African swine fever have been reported in northwestern and southeastern Romania, with the area close to the Danube Delta most affected, according to ANSVSA. In the southeast, a combined 62,000 pigs from households and big farms and 20 wild boars have been culled. In the northwest, 175 pigs and 13 wild boars have been killed.
"The order was a mistake," Baciu said. "Even though the ministry issued clarifications, many farmers are still panicking."
African swine fever is a highly contagious disease affecting pigs, warthogs, European wild boar and American wild pigs, according to the World Organization for Animal Health. The pest kills animals in two to 10 days.