A Private Tesla? That's One Big Tiny Automaker
Bloomberg
Opinion
Tesla sold 103,000 cars last year, which makes it the fourth-smallest listed carmaker by sales volume, according to Bloomberg Intelligence. If Tesla becomes a private company, its projected sales volumes would make it an outlier in the auto sector.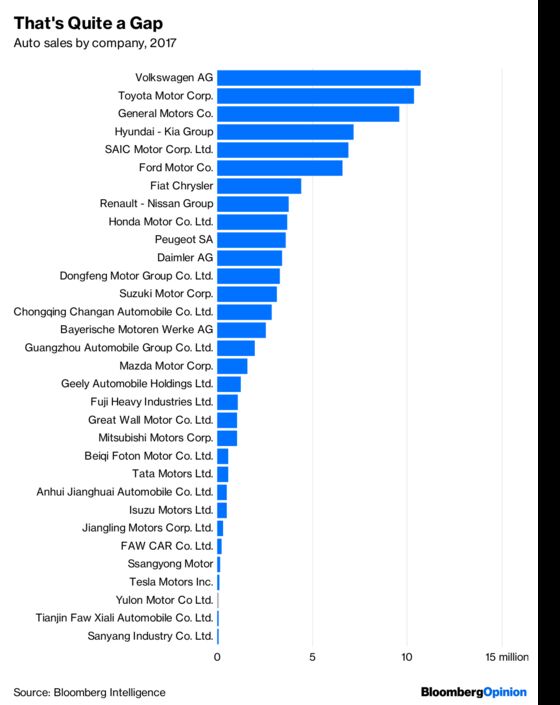 In terms of output and sales, it would be an extremely large privately held automaker: smaller than a major automaker subsidiary and tiny compared to the biggest listed firms, while producing as a whole a mere fraction of certain popular vehicle models alone.
I'll use Tesla's 2018 projected sales, which Bloomberg Intelligence estimates will reach 261,000 vehicles, to compare it to big automakers that have a high degree of specialization. Those 261,000 vehicles equal 51 times the output of Ferrari NV's privately held supercar peer manufacturer Aston Martin and 78 times the output of also-private McLaren Automotive Ltd. A private Tesla would be a very big private automaker indeed.
Tesla's forecasted vehicle sales are more akin to a subsidiary than to a standalone major carmaker. It's about the same size as Porsche, a subsidiary of Volkswagen AG. It's half the size of Volvo AB (owned by Geely Holding Group) and about two-fifths the size of Jaguar Land Rover Automotive Plc (owned by Tata Motors Ltd.).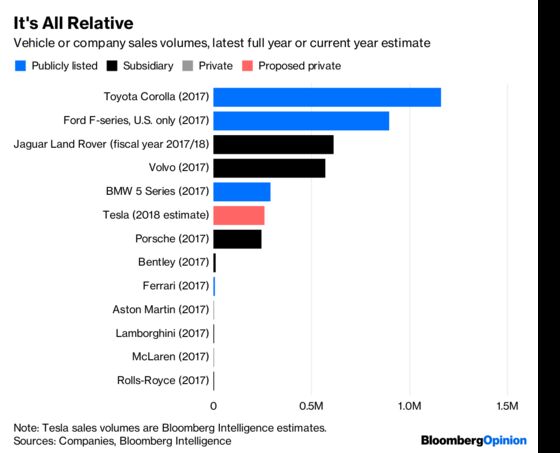 At that production level, it's not even a big model: Tesla's total sales would be less than BMW's sales of just its 5 Series model (292,000), and a minor fraction of the sales of the Toyota Corolla (1.16 million) or the Ford F-series pickup (897,000). Toyota Motor Corp. and Volkswagen AG each sold more than 10 million cars last year. The auto market really doesn't have anything else like Tesla, even though the company plans to reach half a million in sales within a few years.
Perhaps going private would allow the company to pursue a strategy of relentless integration without analyst and investor scrutiny. In a tweet thread the day before Musk announced his plan, Andreessen Horowitz partner Steven Sinofsky made the case that Tesla's "more purpose built engineering" will benefit mass market cars — though it's unclear if doing so would result in more market share or higher profits.
A privately held Tesla would indeed be an unusual creature in an industry that sells 93 million vehicles a year and books $2.5 trillion in revenue.
This column does not necessarily reflect the opinion of the editorial board or Bloomberg LP and its owners.
Nathaniel Bullard is an energy analyst, covering technology and business model innovation and system-wide resource transitions.