Pound Vigilantes Limber Up for Battle to Block No-Deal Brexit
(Bloomberg) -- A public outcry couldn't do it. Nor could lobbying by businesses, economists or rival politicians. Now currency traders are ratcheting up pressure on Britain and the European Union to avoid a no-deal Brexit.
Since the U.K. voted to quit the EU in mid-2016, the pound has been the main vehicle for investors to express their view on the path of negotiations. This week a trade-weighted measure of the currency slid to the lowest level in almost a year, reflecting concern that the chances of a smooth divorce were fading.
Dramatic market moves may jolt politicians into action where other attempts have failed. Speculators have a long history of forcing governments to change tack, including another memorable battle over Britain's relationship with Europe, when speculators including George Soros forced Britain out of the Exchange Rate Mechanism by driving down the pound.
"Further sterling weakness may be the preferred tool for the markets to express their concerns about the risk of a no-deal Brexit," said Valentin Marinov, head of Group-of-10 currency strategy at Credit Agricole CIB. "Currency depreciation could intensify the market pressure on politicians and policy makers alike as it could add to the growth headwinds in the U.K."
Another market event may be brewing. Last week, the pound fell even though Bank of England policy makers unanimously decided to hike interest rates. Investors are ramping up bets on futures price swings and pointing increasingly to the risk of an extended decline for the U.K. currency.
Marinov's views are similar to those of analysts in October 2016, when the pound declined almost 6 percent as investors expressed dismay at suggestions the government was headed for a so-called hard Brexit. David Bloom, a strategist at HSBC Holdings Plc, then called the U.K. currency a "de facto" opposition to the government.
"You see it time and time again when the politicians wake up to very large market events," said Grant Peterkin, senior managing director at Manulife Asset Management Ltd. in Europe. "It will cause them to get to the table, put down potential internal problems, and resolve issues to make the U.K. ship go in a positive trajectory."
He is currently short the pound versus the dollar and is buying short-dated gilts, judging that the market pricing of a slow pace of further tightening from the central bank is correct and the threat of a no-deal Brexit is likely to keep the BOE cautious until a deal is eventually struck.
Since its peak in mid-April, the U.K. currency has so far lost more than 10 percent against the dollar. The pound touched a low of $1.2736 on Thursday, its weakest level in more than a year. Options markets signal that investors are increasingly skittish in the absence of tangible progress in Brexit talks.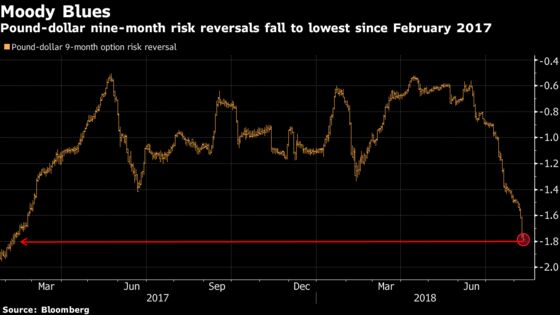 The latest leg lower in sterling comes as BOE Governor Mark Carney said last week that the odds of Britain leaving the EU without a deal were "uncomfortably high." His comments were followed by U.K. International Trade Secretary Liam Fox's warning that the odds of a no-deal Brexit had increased to as much as 60 percent.
The market has turned increasingly downbeat on the U.K. currency as the Brexit deadline approaches with little sign of progress. Hedge funds and asset managers have added to bearish positions while the cost of hedging against a collapse in the pound versus the euro has risen.
With just eight months to go until it leaves the bloc, Britain has struggled to achieve a coherent proposal which both distances the U.K. from Europe and avoids a hard border with Northern Ireland. Several of the U.K. Prime Minister's top team have resigned in protest at her plans to pursue closer ties, meaning May could find her position strengthened if ardent Brexiteers find the market moving against them.
Analysts say the currency is not the only tool in the market's arsenal. Weakness in the credit, equities and gilt markets could also exert pressure on politicians to resolve the internal government conflict and get a coherent deal on Brexit before the March deadline.
"Significant sell-offs in equity markets and tightening financial conditions leading to weaker growth would increase pressure on government to find a solution," said Liam O'Donnell, head of U.K. government bonds at Aberdeen Standard Investments. "You also have business leaders lobbying politicians and I'd imagine this would increase in the scenario" of weaker U.K. markets."
Kacper Brzezniak, a portfolio manager at Allianz Global Investors, doesn't see market moves having a sway on public discourse on Brexit just yet, but they could prompt U.K. Prime Minister Theresa May or perhaps Chancellor of the Exchequer Philip Hammond to come out with a "more positive message" that they still expect a deal to be done.
Earlier in July, Allianz's Brzezniak was predicting greater pound volatility, a bet he took profit on Tuesday. For him sterling was at "very stretched levels" and if it falls further, say $1.27, there would be a scope for a bounce back in the short term.
The irony is that investors betting against the pound risk being victims of their own success. Should the market's reaction become extreme enough that policy makers do find a way to reach a Brexit deal, the likely reaction would be a currency rebound which could see traders lose money on their bearish bets. On a no-deal Brexit, of course, sterling could continue to slump to levels not seen since the referendum.