Pound Hits One-Year Low as U.K. Growth Pickup Offset by Brexit
(Bloomberg) -- The pound stayed close to a more than one-year low against the dollar after data showing accelerating economic growth were offset by concerns about a no-deal Brexit.
Sterling was set for its fifth week of declines -- its longest losing streak since January 2015 -- amid continued fears that the divorce negotiations between the U.K. and the European Union may end without agreement. The U.K. economy grew 1.3 percent in the second quarter from a year earlier, matching the median economist forecast, while manufacturing expanded more than expected.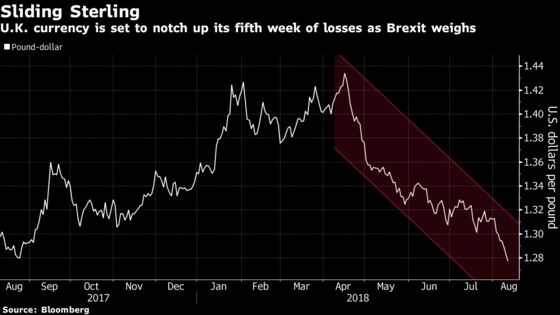 While the gross-domestic-product figures show an economy bouncing back from a weak start to the year, concerns that Prime Minister Theresa May's government will have to fall back on to World Trade Organization rules with the EU have grown in recent weeks. International Trade Secretary Liam Fox has said the odds of leaving without a deal were 60 percent.
"It's not a bad number from the GDP, but the pound is not going to care much as there is a lot more going on to cause its decline," said Jordan Rochester, a currency strategist at Nomura International Plc. "The odds of a hard Brexit in market pricing remain high."
The pound dropped as much as 0.7 percent to $1.2736, the lowest level since June 2017. Ten-year gilt yields fell as much as five basis points to 1.25 percent, the lowest level in almost three weeks.