North Korea's Pause Keeps Kim From Perfecting ICBMs, U.S. Says
(Bloomberg) -- Kim Jong Un's pause in testing appears to have prevented North Korea from perfecting its intercontinental ballistic missiles, the vice chairman of the U.S. Joint Chiefs of Staff said.
"Our assessment" is that North Korea hasn't been able to complete the "last two pieces" of technology needed to make its ICBMs reliable, General Paul Selva said Friday at an Air Force Association breakfast in Washington.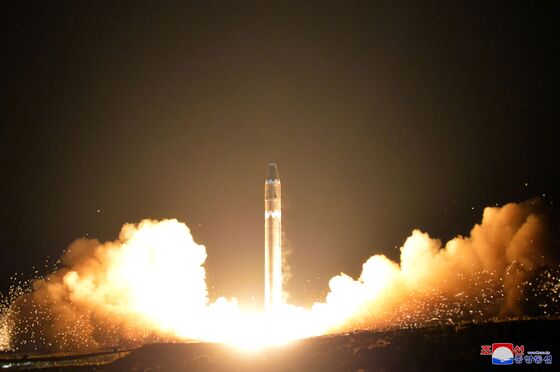 "We've not seen a demonstration of a reliable" reentry vehicle, Selva said, "and we've not seen a demonstration of a reliable arming, firing and fusing system" that would allow the system to "actually detonate when he wants it to detonate."
That's been a benefit of President Donald Trump's initiative to pursue talks aimed at getting Kim to give up his nuclear arsenal. Still, the general added of the pause that "we don't know what impact it's had on his logic, on his decision calculus."
"We have to assume he might shoot one" even if the missile is unreliable, Selva said, so "we have to be ready."
At the end of last year, North Korea proclaimed that its nuclear program was complete, and Kim said in a New Year's speech that he could now strike anywhere in the U.S.
Trump and Kim met in Singapore in June and came away with a bare-bones pledge to pursue "denuclearization" of the Korean Peninsula, among other goals. While North Korea hasn't resumed missile tests, Secretary of State Mike Pompeo has said that the regime continues to produce fissile material, and the Washington Post has reported signs of continued work on its ICBM program.
If North Korea fired an ICBM at the U.S. now, Selva said, "we might actually make the choice" not to try to shoot it down because "based on what we know about the system and its trajectory that it's not going to hit anything."