CBS Director Who Recorded Redstone Says He Wasn't Sneaking Shots
(Bloomberg) -- A CBS Corp. director accused of secretly recording Sumner Redstone says he wasn't skulking around when he trained his iPhone on the ailing billionaire.
Arnold Kopelson, a movie producer and long-time pal of Redstone, said he often photographed the controlling shareholder of CBS and Viacom Inc. during their 17-year friendship. Kopelson's video could be used to show Redstone's mental state -- and that's made it a controversial piece of potential evidence in a corporate wrestling match over control of CBS.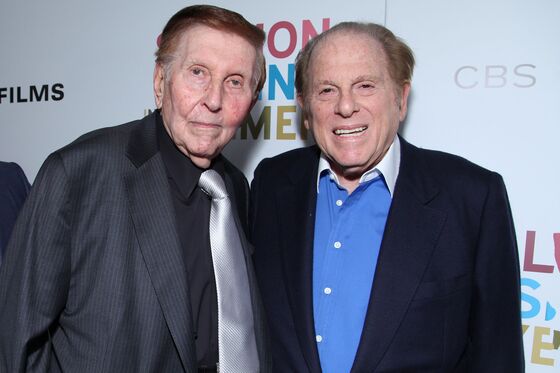 "There was nothing secretive about this video recording at all," Kopelson said in a court filing in a Delaware lawsuit over the CBS fight. The producer said he recorded Redstone and a trio of his nurses during a January visit to his California mansion.
"All three nurses were well aware they were being recorded and they encouraged SR to try to communicate during the recording," Kopelson said in the filing, unsealed Friday.
Redstone's family is reserving its rights "against Mr. Kopelson and the other CBS parties for taking the video in the first instance without his consent and in violation of law," said Sara Evans, a spokeswoman for Redstone's company, National Amusements Inc. Kelli Raftery, a CBS spokeswoman, said her company declined to comment beyond public filings.
CBS's board, led by Chief Executive Officer Les Moonves, say the 95-year-old Redstone's health problems are so acute he's "incapable of communicating his views" about a dilution plan designed to slash the Redstone family's voting control from 79 percent to 17 percent.
Redstone is said to now communicate mostly through grunts and an iPad preprogrammed with his voice to say yes, no and a profanity.
CBS directors have pointed to Kopelson's video to buttress their concerns about the billionaire's ability to communicate. Kopelson, a film producer whose credits include Oscar winner "Platoon," made the video to "memorialize Mr. Redstone's physical state," according to his affidavit.
National Amusements officials noted in their court filings that Kopelson never explained why he was compelled to document Redstone's health and recorded the billionaire in his California home without consent. They added that Shari Redstone, the billionaire's daughter, was "furious" at the CBS director's surreptitious recording, saying it amounted to a "grievous invasion of privacy and assault on her father's dignity."
Kopelson, who first met Redstone at a 2001 dinner party, said he and the media mogul became best friends and attended screening parties over the years.
An avid photographer, Kopelson said he often photographed Redstone at the billionaire's request, according to the filing. That's why recording him wasn't out of the ordinary, according to the filing.
Delaware Chancery Court Judge Andre Bouchard, who has watched the video behind closed doors, refused National Amusements' request to bar it from an upcoming Oct. 3 trial. Bouchard also denied media requests to have the recording made public.
The case is CBS v. National Amusements Inc., No. 2018-0342, Delaware Chancery Court (Wilmington).