Australian Wheat Prospects Hinge on Near Perfect Season in West
(Bloomberg) -- As drought withers wheat crops across Australia's east, farmers in the west may be set for a bumper harvest.
The growing season for most of Western Australia has been "near perfect so far" and crops are ahead of where they would normally be with a late-May break to the season, the Grain Industry Association of Western Australia said in a report on Friday. The state's total crop production is forecast at 15.5 million metric tons, including 9.9 million tons of wheat, the group said. Risks include exposure to sudden hot weather and frost in the next six weeks, it said.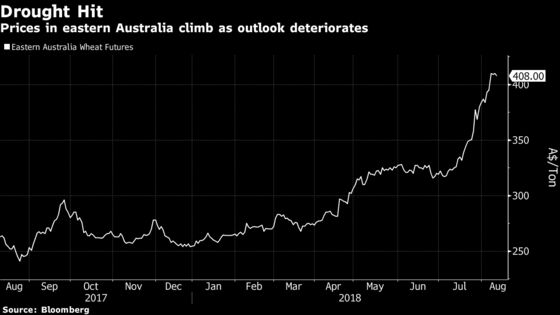 In eastern Australia, all of New South Wales, the country's second-biggest wheat grower, is in drought after the state had its driest July since 2002. After consecutive years of bumper harvests, global wheat output is set to fall to a three-year low as dry spells hurts crops in producers from Russia to Germany to Australia. The worsening outlook spurred a 20 percent surge in eastern Australia wheat last month, beating all raw materials in the Bloomberg Commodity Index and the 10 percent rally in Chicago futures.
"Any negative change to the largely favorable season currently on the cards" for Western Australia "will reverberate across the Australian market," Rabobank International said in a report on Friday, estimating the state's wheat crop at about 9 million tons. Late September and early October will be critical for domestic markets as many livestock farmers only have feed coverage for two to three months, it said. Without spring rain to boost pasture growth, farmers will need to decide whether to continue to feed their stock, it said.
Livestock prices continue to favor feeding of stock and the inclusion of non-grain alternatives such as almond hulls, oranges and cotton seed in feed, according to Rabobank. The Eastern Young Cattle Indicator fell to the lowest in more than three years on Thursday as dry conditions limit demand and producers face the prospect of running out of feed and water.