Italian Bond Roller Coaster May Just Be Approaching Its Zenith
(Bloomberg) -- Italian bond investors may be about to face their biggest challenge yet.
In the next few months, bondholders will have to navigate reviews from Moody's Investors Service and Fitch Ratings, a budget in September and political headlines emanating from Rome. HSBC Bank Plc revised higher its forecast for 10-year yields, with strategist Steven Major cautioning that the securities may be prone to wide price swings. Societe Generale SA suggested that investors exit long positions in the nation's government debt.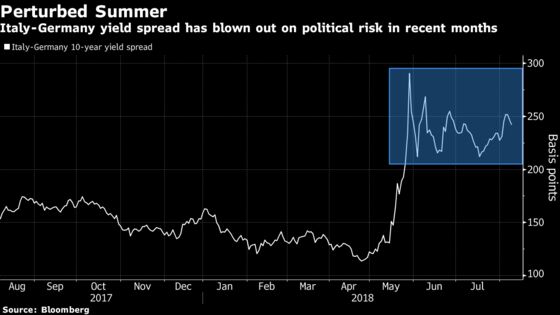 Concern over the fledgling government's spending plan rattled Italy's bond market last week, with investors keenly watching how the populist coalition will reconcile tax cuts and a basic income for the poorest within the European Union deficit limit of 3 percent of gross domestic product, compared with its current 2.3 percent shortfall. Any sign Italy is going to breach the EU's level could trigger further ructions.
"The problem isn't the fundamentals or the data, it's what the government tries to negotiate and if it's too radical, the market won't like it," Major, HSBC's global head of fixed-income research, told Bloomberg Television. "That says to me I may not want the risk."
Italian 10-year bond yields dropped two basis points to 2.89 percent Thursday, having touched a two-month high of 3.1 percent on Aug. 3. The spread over those on their German peers was at 251 basis points.
HSBC raised its year-end forecast for Italy's 10-year yields to 2.7 percent, from 2.4 percent previously. Major said that daily moves of 100 basis points or more are "possible."
For Bank of America Corp., Italian bonds are in a highly unstable position and could finish the year with the yield spread narrowing to 170 basis points above those in Germany, or blowing out to 400 basis points over, depending on how the budget is received by investors. The latter level hasn't been reached since the euro-area debt crisis.
"If we do have a very aggressive fiscal loosening, then the market will worry about the amount of increased supply that will need to be taken down," global head of rates strategy Ralf Preusser told Bloomberg Television. "The domestic investor base doesn't have that much room to buy, so from that perspective if the ratings agencies use that as an excuse to downgrade Italy, the widening could be fairly pronounced."
Italy's debt pile is the second biggest in the euro area and is equivalent to 130 percent of GDP. Embattled finance minister Giovanni Tria said that he sees economic growth at 1.2 percent this year, before slowing to between 1 percent and 1.1 percent in 2019, according to an interview with newspaper Il Sole 24 Ore. He also reiterated the country's commitment to the euro, which has been a point of concern for investors.
The government's implementation of its planned measures, including tax-system reform and income support, needs to be "realistic," according to Prime Minister Giuseppe Conte. The budget will be "serious, rigorous, courageous," he said Wednesday. Deputy PM Luigi Di Maio said that the country is willing to play hardball with the EU to win concessions on the bloc's budget rules.
Fitch gives Italy a BBB rating, while Moody's grades the nation Baa2 with a negative outlook, both of which are just two levels above sub-investment grade. While the two reviews, due Aug. 31 and Sept. 7, respectively, pre-date the government's spending plan, they still provide downside risks to Italian bonds, according to Societe Generale.
Investors should "cut exposure to Italy with the key risk events now only a few weeks away," head of European rates strategy Ciaran O'Hagan wrote in a note to clients. "The prospect of negative newsflow over the coming weeks is now too great to ignore."