U.S. Sanctions Rival Tariffs for Drawing World Economy Headlines
(Bloomberg) -- The U.S. went on a tear this week internationally, slapping either tariffs or sanctions on several economies. 
Here's our wrap of what's going on in the world economy:
Both sides turned up the volume in the ongoing U.S.-China trade spat, with Trump claiming the upper hand as the U.S. readies levies on a fresh $16 billion basket for Aug. 23 and Chinese officials promising to retaliate. Tariff threats have become the only trade that's sure to endure between the two largest economies, while China figures show their imports and exports have yet to take a real hit even as other parts of the economy might falter anyway. Inflation might not even show up. The White House has mid-term election tensions to think about. In Japan, the focus for talks with the U.S. is on guarding the auto industry, while South Korea aims to diversify its markets amid all the trade risk.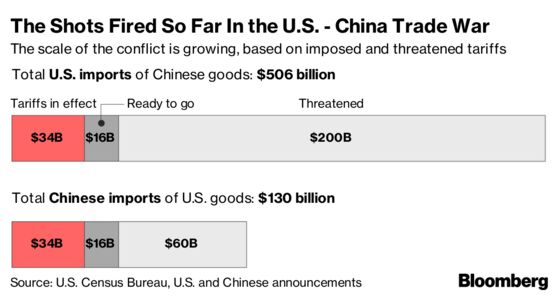 The imposition of U.S. sanctions rivaled the introduction of tariffs for headlines this week. They landed on Iran at a time when its economy is already on the verge of economic breakdown, while Turkey's growth ambitions also took a hit. Russia too faced the raising of barriers, although its government has gradually inoculated the economy.
Turkey Emergency Rate Hike? Lira Collapse Suggests So
From Novichok to Sanctions Shock, Watch Russia's Ruble
Central Banks Hold the Line
The week in central banking looked like the global tightening cycle that wasn't. Romania had a surprise rate hold and declared victory in the war against fastest-in-EU inflation. New Zealand joined Australia in holding interest rates steady amid calm price growth and said the chances of a cut have increased. The talk in Seoul is that a potential rate hike would probably be one-and-done for 2018. In the emerging markets world, the Philippines provided the lone action this week with a third straight interest-rate hike amid soaring inflation, and the central bank's governor told Bloomberg TV he's ready to act again as needed. Argentina held, while switching its benchmark rate. Thailand left its key rate unchanged even as pressures intensify to create some policy space in good economic conditions. As for the major central banks, some in markets are noting they are tightening despite an absence of inflation.
One of World's Most Dovish Central Banks Faces Test of Unity
Brexit drama lumbered on, with the U.K.'s international trade chief placing better-than-even odds on a no-deal outcome while Theresa May eyes end-November as a delayed deadline. Pressures are building on the Labour Party to support a second Brexit referendum. Italy's reigning populists plan to use tough tactics to win concessions from the EU on its budget. In Denmark, economists are warning that a populist-led public spending boost, and an immigration clampdown in an already tight market, could cripple economic growth.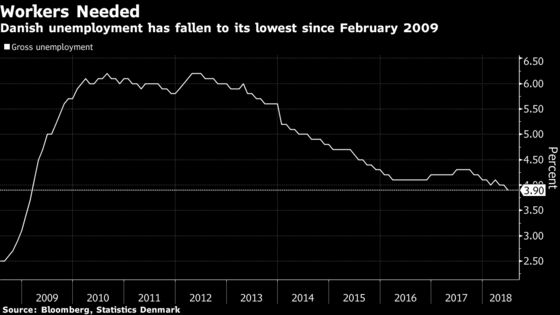 On the jobs front, less-educated Americans are gaining ground, but black women's top jobs pay half what white women's do. Japan is enjoying a wage-growth boom, but the jury is out on how long it'll last. Indonesia's gig economy is taking off, but that's shone a spotlight on rampant underemployment even as joblessness is at a decades-low. India's trying to highlight the work of stay-at-home women as it refines labor-market data collection.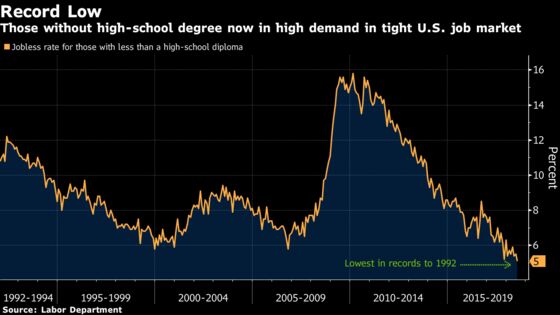 Trump's Steel Tariffs Hitting Permian Basin as Wages Increase