Not All Analysts Are Charmed by Pandora Boss's Goodbye
(Bloomberg) -- Pandora A/S shares were caught between jubilation and despair after the troubled Danish jeweler's chief executive headed for the exit.
The stock jumped by more than 10 percent in early trading, as some analysts hailed Anders Colding Friis's departure as a new beginning. It quickly reversed to trade almost 4 percent lower amid concern that the company's outlook may still be too optimistic after this week's profit warning. By midday, the shares were back up again, trading about 5 percent higher.
READ: Pandora CEO Steps Down After Jewelry Maker Warned on Profit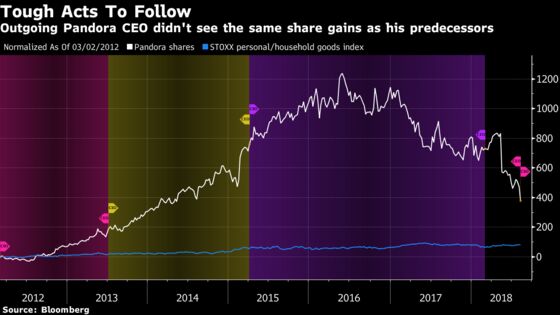 Here's a round-up of what analysts had to say following the announcement of Colding Friis's departure and Pandora's full second-quarter earnings release:
(Sector perform, price target 525 kroner)
Pandora's issues can now be considered structural rather than cyclical and its mid-term margin guidance "appears optimistic" in the absence of improving its top line

Any further deterioration in operating cash flow generation could require additional debt financing or a cut to capital allocation
Store openings and acquisitions of franchisees are driving higher cost inflation than previously anticipated, which RBC doubts will be fully offset by efficiency gains
DNB Markets, Ole Martin Westgaard
(Buy, price target 700 kroner)
Expects consensus to fall towards the low end of the 2018 guidance, suggesting a 10% earnings per share reduction from pre-profit warning estimates

A "weak" second quarter was hit by lower-than-expected revenue from Pandora's key product category, charms and bracelets
The company's transformation plan is taking longer than expected and the third quarter is also likely to be soft
CEO's resignation is the first step in restoring investor confidence
Berenberg, Zuzanna Pusz, Mariana Horn and Lauren Molyneux
(Hold, price target 475 kroner)
Earnings statement indicates that the charms presented under Pandora's new design team in the second quarter were not received as well as initially anticipated. However, Berenberg doesn't expect further downgrades to consensus, given the pre-release and sharp decline in the shares.

Board shake-up should be taken very well by the market, as the reshuffle had been "eagerly awaited"
Co. "seems to be finally addressing its issues"