Opioid Abuse by Pregnant Women Worsens Across U.S., Data Show
(Bloomberg) -- Newborns are victims, too. Opioid abuse by pregnant women is worsening across the U.S. with Vermont, West Virginia and Kentucky showing the highest concentrations.
The prevalence of "opioid use disorder" more than quadrupled from 1.5 per 1,000 hospital births in 1999 to 6.5 per 1,000 births in 2014, according to the Morbidity and Mortality Weekly Report, published by the U.S. Centers for Disease Control and Prevention. The analysis is based on statistics from 30 states and the District of Columbia.
The trend showed marked acceleration between 2009 and 2014.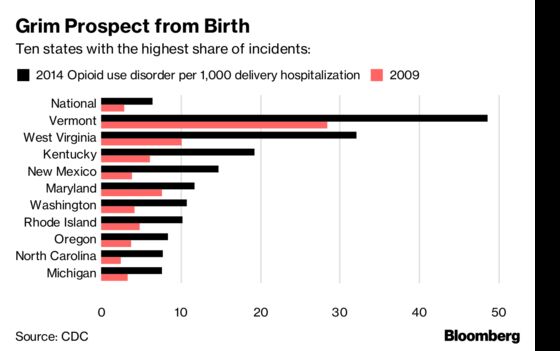 "Opioid use by pregnant women represents a significant public health concern given the association of opioid exposure and adverse maternal and neonatal outcomes, including preterm labor, stillbirth, neonatal abstinence syndrome, and maternal mortality," the CDC said.