Near-Record U.S. Crops? Here's What to Watch in WASDE Data
(Bloomberg) -- Grain prices have been enjoying a rebound in the last several weeks, but the good times may not last for all crops as a U.S. government report Friday is projected to show near-record American harvests.
The U.S. Department of Agriculture's monthly World Agricultural Supply and Demand Estimates will give traders the agency's first survey-based view of U.S. corn and soybean production in 2018. The market will also get an updated look at how much wheat harvests are shrinking as dry spells span the globe.
The report will also be the USDA's first time releasing the WASDE under new measures that end the practice of giving media (including Bloomberg News) embargoed access to the figures, spurring a race to download the data from the agency's website.
Click here for Bloomberg's surveys ahead of the report.
While areas of the U.S. Midwest have faced both excess rain and dry spells this summer, the USDA's data may point to another season of hefty harvests. On average, analysts surveyed by Bloomberg expect U.S. corn production of 14.416 billion bushels, the third-largest ever, while soybean output would reach an all-time high of 4.425 billion bushels. Farmers planted fewer acres of both crops this season, but near-record yields may help offset the loss.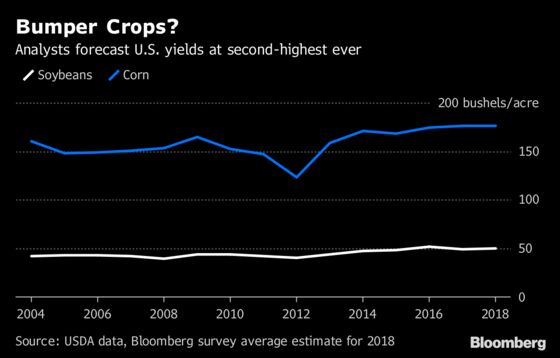 A bigger soybean crop points to swelling stockpiles. Analysts see U.S. inventory reaching a record 648 million bushels at the end of the 2018-2019 season, 12 percent higher than last month's forecast. The USDA in July cut its outlook for American soybean exports, citing the tariffs imposed by top buyer China. Though the Asian nation has boosted purchases from Brazil, the country's appetite for U.S. supplies after the harvest remains a focus ahead.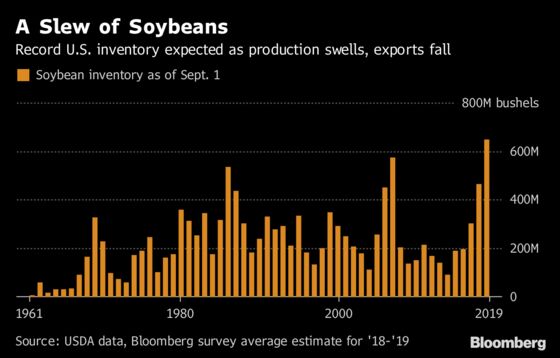 Meanwhile, 2018-2019 corn reserves are forecast at a five-year low of 1.636 billion bushels. Conditions are "looking brighter" for prices as U.S. export demand rises, Rabobank analyst Michael Magdovitz said in a report this week.
After years of grain gluts, world wheat and corn supplies are getting tighter. Analysts see global wheat inventory shrinking to 254.5 million metric tons, the smallest in three years. Dry spells are curbing production in grain juggernauts from Russia to Germany to Australia. Analysts peg corn stockpiles next season at 151.6 million tons, sliding more than 20 percent from the prior year.