Japan's Economy Rebounds as Business Spends on Labor-Saving Tech
(Bloomberg) -- Capital investment drove a strong rebound in Japan's economy in the second quarter, as companies turned to technology to cope with a labor shortage.
Signs that domestic demand is beginning to take over as a source of growth will be welcome at the Bank of Japan, which is struggling to hit its inflation target of 2 percent. It also helps bolster the economy before a hit next year when the Abe government is scheduled to hike the sales tax.
Japan's extreme labor shortage is fueling business investment, which in turn is driving economic growth, Kathy Matsui, chief Japan equity strategist at Goldman Sachs, told Bloomberg TV.
"It's really all about capex, and particularly IT capex, which can enhance productivity and overall output over the long run," Matsui said. "We think that is going to remain a core driver of growth."
The highlights of the data released on Friday:
Gross domestic product expanded at an annualized rate of 1.9 percent in the three months ended June 30, topping a forecast of 1.4 percent.
Business spending jumped 1.3 percent from the first quarter. That was the biggest increase since the fourth quarter of 2016.
Private consumption rose 0.7 percent, beating estimates of 0.2 percent.
While consumption improved, it remains a question mark. Wage gains are rising, but they haven't reached levels that would drive inflation to the BOJ's target anytime in the foreseeable future. The numbers looked better this quarter, but the overall consumption trend hasn't changed dramatically, said Toru Suehiro, senior market economist at Mizuho Securities Co.
Other possible headwinds for Japan include any move by the U.S. to impose new tariffs on car imports, an economic slowdown in China and the impact of poor weather in Japan, Matsui said. Japan has been hit by extremes of heat and rain in recent months that have brought fatalities and disruption to business and transport links.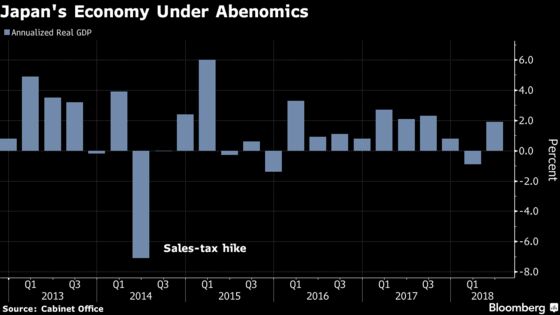 What Our Economist Says ...
"The less vibrant consumer spending is, the more the economy may have to lean on capex for growth. But it's business spending that could suffer the most from Japan's biggest external risks -- U.S. protectionism, and slowing growth in China."

-- Yuki Masujima, senior economist, Bloomberg Economics

For more, see out JAPAN REACT
"The animal spirits of corporations are coming back. We're seeing a record amount of M&A activity, which does tell you that corporate CEOs are actually engaging," Jesper Koll, chief executive officer of Wisdomtree Japan Inc., said on Bloomberg TV. "Now we've got positive business expenditure data. That suggests investing for growth, investing in better technology."
Koll, like Masujima, was also worried by the trade outlook, describing possible U.S. auto tariffs as the "elephant in the room."
"If there were to be 25 percent tariffs on Japanese cars and car parts, that could cut economic growth about about half-a-percent, which would quite enormous," he said.
Net exports, or shipments minus imports, subtracted 0.1 percentage point from GDP growth. A rise in imports of commercial aircraft was one key contributor to the picture here.
Measured quarter on quarter, GDP grew 0.5 percent (forecast +0.3 percent).
The reading for annualized GDP in the first quarter was revised down to -0.9 percent from -0.6 percent.
Nominal GDP rose 0.4 percent in second quarter (forecast +0.2 percent)
Private inventories made no contribution to GDP in the quarter.