Glenview, Icahn Face Off Over Cigna/Express Scripts Deal
(Bloomberg) -- Activist investor Carl Icahn's push to derail Cigna Corp.'s proposed $54 billion takeover of pharmacy-benefits firm Express Scripts Holding Co. isn't convincing one big shareholder.
Glenview Capital Management LLC publicly backed the deal on Thursday in a letter to Cigna shareholders, urging other investors to do the same, saying the company is actually paying a cheap price for Express Scripts compared with similar takeovers in the past. That rebuts Icahn's statements that the health insurer is "dramatically overpaying" for a company facing existential threats.
"Sensationalist headlines and intentionally misleading assertions from those with conflicting interests and limited analysis should not carry more weight than balanced diligence," Glenview said in 13-page letter. "We believe that Cigna has well exceeded the 'burden of proof' necessary to support a transaction of this magnitude."
Icahn fired back at Glenview's Larry Robbins, noting that Robbins had acquired almost 8.7 million shares in Express Scripts after the deal was announced and therefore has a lot of lose if it fails.
"I have a great deal of respect for Larry, but I still must state that I find his letter full of obfuscations and misstatements," Icahn said in an interview on Thursday.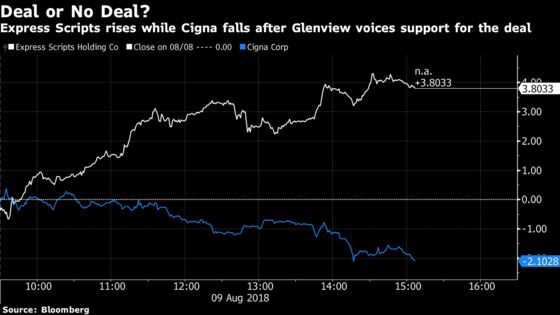 Express Scripts shares rose 3.7 percent to close at $81.82 in New York, while Cigna dropped 2.1 percent.
Glenview, which has been an investor in Cigna for almost 10 years, holds about a 0.9 percent stake in the insurer and a 0.8 percent stake in Express Scripts, in a combined $1.3 billion investment. Icahn on Tuesday disclosed a 0.56 percent stake in Cigna and said he's betting against Express Scripts, although admitting he's facing difficulties convincing Cigna shareholders to vote down the deal because a lot of them hold shares in both companies.
Regarding the debate on rebates, and Icahn's view that the current push against the system will reduce Express Scripts' profitability, Glenview notes that rebates account for only 7% of Express's core earnings before interest, taxes, depreciation and amortization, and the company has the ability to make money in other ways, including simple administrative fees. Express Scripts' contract with one of its largest customers, Tricare, is an example of that, the letter notes.
Icahn said there have been several events the transaction was announced that make it a great deal more risky. For example, U.S. Health and Human Services Secretary Alex Azar raised concerns about the rebate system and called for more transparent, fixed contracts in the sector and has proposed a rule change. Additionally, Amazon.com Inc. also announced that it had acquired PillPack, "which means they'll be in competition. With its 100 million Prime customers, Amazon is a major force to be reckoned with," Icahn said.
"If that happens, Express Scripts' model is extremely challenged as is possibly its existence," he said, adding that he believes Express Scripts would be trading well below $60 a share if the deal fails.
The Trump administration has targeted PBMs, which are intermediaries in the drug-supply business, as it works to lower prescription-drug prices. The companies negotiate rebates from drugmakers and have been criticized for keeping part of the funds instead of passing them to consumers. Some critics say that creates incentives for pharmaceutical companies to raise prices.
"The noise in the PBM industry is not unique, nor existential," Glenview said. "Prior episodes of regulatory scrutiny have favored those businesses that do well for consumers and society. This time is not different."
Glenview didn't elaborate on the potential competition from Amazon.com Inc. Glenview noted, however, that every one of the companies mentioned as a potential competitor use a PBM to reduce their pharmaceutical cost.