Dell Still Has Some Explaining to Do on Its Deal Math
(Bloomberg Opinion) -- Dell Technologies Inc.'s deal debrief was supposed to provide some answers, but instead it's only raised more questions.
The computer giant this week detailed the deliberations behind its plan to buy out the DVMT tracking stock it created in 2016 to finance its takeover of data-storage company EMC Corp. Dell estimates its stock-and-cash bid is worth $109 per share, and that hasn't sat right with DVMT investors. For one, that represents a big discount to the VMware Inc. shares DVMT is meant to mimic. The $109 number is also derived in part from an assessment of Dell's worth that many investors doubt. Dell's management was reportedly confident the proxy statement would help back up its valuation math. It wasn't a game changer, though. 
Shares of DVMT barely budged after the late Monday release of the mammoth 300-plus page filing. They closed on Tuesday at $93.70, well below the purported offer price. Most notable for me in the proxy filing was the stark contrast between Dell's negotiations with the VMware special committee and the group of its own board members tasked with representing the interests of DVMT holders.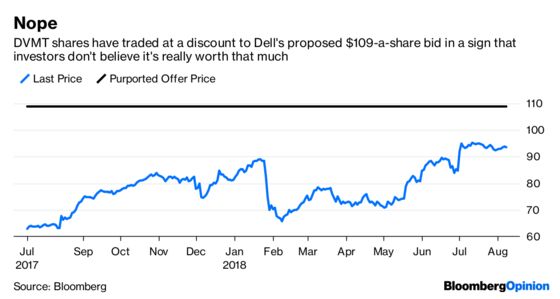 It seems clear that initially, Dell's preferred choice for simplifying its messy capital structure was some sort of combination with the software-focused and fast-growing VMware, in which it obtained a stake via its EMC purchase. But the VMware special committee, which was advised by Lazard, pushed back against Dell's financial analysis — including its initial projections for fiscal 2020 — and demanded a premium to the company's historical undisturbed price. While Dell adviser Goldman Sachs Group Inc.'s analysis had non-Dell affiliated VMware holders owning 11.6 percent of the future combined company in a proposed transaction, Lazard's numbers showed they deserved a 20 percent stake.
According to Dell, the wide gap in valuation views is one reason it decided to instead consider negotiating the exchange of DVMT shares for its own Class C common stock. VMware also appears to have fought hard against the strategic logic. It held firm even after receiving updated financial projections from Dell following its better-than expected performance in the quarter ended May 4. It will stay publicly traded and fund the cash portion of Dell's DVMT bid with an $11 billion special dividend.
Evercore, which was advising the DVMT special committee, also raised "differences" with Dell's valuation math. But while the committee quibbled back and forth with Dell's advisers and locked in a cash component, it ultimately approved a DVMT proposal based on a Dell equity value and pro-forma ownership split that were closer to the Dell side's starting points than its own.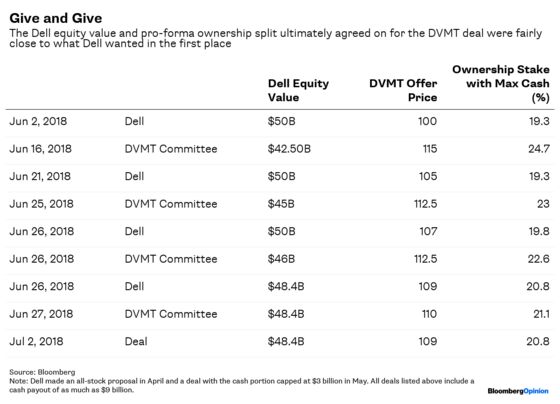 And then there's Dell's Donald Trump-like approach to its self-worth. I've previously highlighted how Dell had valued its equity at $33.17 a share for the purposes of stock-based compensation, compared with the $79.77 it cited in its DVMT deal presentation. Per the proxy, that lower estimate was as of Nov. 3, 2017, which represented a less than $1 increase from the previous quarter and an equity value of $19.5 billion, excluding the VMware shares associated with DVMT. Dell then cited an estimate of $29.3 billion as of Feb. 2. This is curious because on a Feb. 18 phone call with Evercore, Silver Lake representatives presented an illustrative Dell equity value of $34.5 billion to $47.5 billion. Dell's ultimate DVMT proposal is based on an equity value of $48.4 billion.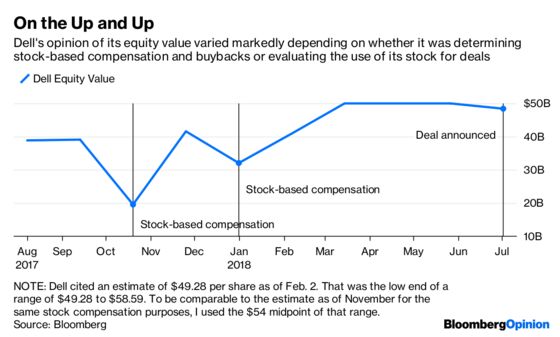 The smaller numbers were based on a private-company valuation framework, but it's still unclear why a debt-laden and largely old-school tech giant would merit such a meaningful jump in its return to public trading.
The value of Dell's holdings in Pivotal Software, SecureWorks and VMware increased during the span of its deal negotiations, so there's that. In its proxy filing, Dell also disclosed rosy financial forecasts for the next five years. Estimating results several years out isn't an exact science, though, and the numbers look a tad optimistic.
While Dell's outlook for revenue and market share is stronger than that of competitors Hewlett Packard Enterprise Co. and HP Inc. in some markets, some investors have noted a discount to a blend of those companies' multiples may still be warranted due to Dell's heavier debt load and mixed track record in dealing with public shareholders. Indeed, DVMT shares are currently trading as if Dell's estimate of its equity value is still way too high. 
The next data point will be Dell's fiscal second-quarter earnings release, expected in September. It will take something big to change shareholders' perspective. With Dell founder Michael Dell and buyout partner Silver Lake reportedly having no intention of sweetening their offer, that will shift the conversation to a third option: taking Dell public and forcing a conversion of DVMT shares. This would be a risky gamble for both sides, but some DVMT shareholders argue it would be worse for Dell. The computer maker's complicated story would be hard to sell at a typical IPO roadshow and it would have to shoulder all the financial burden of a DVMT transaction rather than taking advantage of VMware's cash pile, as it is in the current proposal.
The unconvincing narrative in the proxy statement may give shareholders more confidence to call Dell's bluff on an IPO alternative and push for a higher bid. 
This column does not necessarily reflect the opinion of the editorial board or Bloomberg LP and its owners.
Brooke Sutherland is a Bloomberg Opinion columnist covering deals and industrial companies. She previously wrote an M&A column for Bloomberg News.