Conte Tells Italian Populists Their Program Will Take Five Years
(Bloomberg) -- Italian Prime Minister Giuseppe Conte warned that it will take five years to fully implement the flat tax and citizen's income promised by the two populist parties that his government is built on.
Conte's comments at a cabinet meeting Wednesday came after Deputy Prime Minister Luigi Di Maio from the Five Star Movement said in an interview with Bloomberg News that welfare for the poorest Italians was an absolute priority that he wanted implemented right away.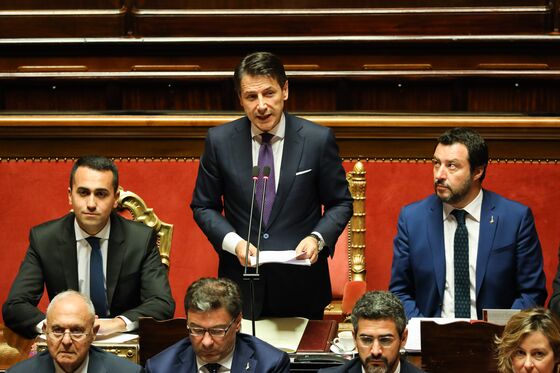 While party leaders Di Maio and the League's Matteo Salvini are impatient to enact campaign promises, the academics brought in to help execute their program -- Conte and Finance Minister Giovanni Tria -- have shown more concern for the constraints of Italy's financial position.
Italian cabinet members have been meeting to begin working out the 2019 budget, with the deficit already expected to be higher than initially forecast because of slower economic growth and higher interest rates. Tria has been seeking to reassure European Union partners that Italy won't break debt-reduction targets agreed with the European Commission. Di Maio and Salvini have suggested their platforms take priority over rules.
"Clearly the politicians will have the upper hand, although people like Tria may be able to tilt the balance in favor of responsible policies," said Lorenzo Codogno, former chief economist at the Italian Treasury and founder of LC Macro Advisors. "Italy is a parliamentary democracy and thus Parliament tends to have the final word."
After March's election left parliament deadlocked between Di Maio's Five Star and Matteo Salvini's League, Conte and Tria were recruited from academia to arbitrate between the two groups who've spooked financial markets with plans that could worsen the budget deficit.
Conte told reporters in Rome Wednesday that the 2019 budget must be "realistic" and Tria told newspaper Il Sole 24 Ore that the government's program would be enacted in stages.
But then Di Maio told Bloomberg that he wants Italy to use the same tough tactics it used at a June summit on immigration so that his government's plans can be implemented without breaching deficit limits. Specifically, he wants the EU to change the way deficits are calculated by not counting some "structural" expenses.
"We want to discuss these reforms with the European Union to obtain the margin for maneuver that will allow us to implement those measures," Di Maio said. "That means doing the same as we did on immigration. There shouldn't be a clash with the EU, but a frank discussion."
Italy's 10-year bonds were little changed on Thursday morning, with the spread over German bunds at 252 basis points. Yields jumped during the previous session following Di Maio's comments.
Italy's government will announce the outline of its budget in late September, and present it to the EU in October. Italy's deficit this year is forecast to be 1.6 percent of economic output, well within the euro zone's limit of 3 percent. But the Commission has insisted on narrower deficits for Italy to reduce its 2.3 trillion euros ($2.7 trillion) debt, the largest in Europe.
Codogno said the most likely outcome of the talks with the EU, which he put at a 55 percent chance, would be what he calls a "broadly compliant scenario with some muddling through."
Peter Dixon, a global economist at Commerzbank, said on Bloomberg Television that the EU is unlikely to push Italy too hard.
"Italy is one of original signatories of the Treaty of Rome, it's an integral part of the EU, it's the third largest bond market in the world, and I think it will be cut more slack," he said.