Zloty Masked by Euro Weakness Fails to Get Economic Leg-Up
(Bloomberg) -- What a difference a few months make.
Last year, Poland's currency was on a tear. This year, even with an economy expected to grow at a 5 percent clip -- the most among Eastern Europe's biggest markets -- the zloty is in the red. The nation's finance minister blames the euro's fortunes as the reason for the drag on the local exchange rate and fears the shared currency's weakness dims the outlook for the zloty.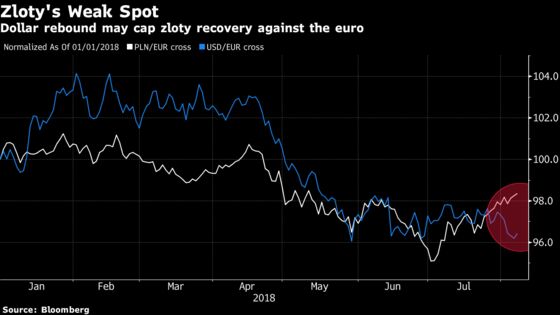 "We should be looking at zloty in a broader context," Teresa Czerwinska, who took office at the start of the year, told reporters on Monday. "The main exchange pair is the EUR/USD, and we see the effect quantitative easing has had on it. A weaker euro versus the dollar may weigh on the zloty this year."
The zloty has lost 5 percent of its value against the dollar this year after surging 20 percent in 2017, one of the best performances among emerging markets in Europe and Africa. The euro has weakened more than 3 percent against the dollar so far in 2018 after strengthening 14 percent last year.
While the median forecast among analysts surveyed by Bloomberg is for the zloty to gain more than 1 percent from its current level of 3.6751 per dollar by the end of the year, many concur with the government's assessment, including Poland's largest bank by assets.
"The rules running the EUR/USD pair are global, reflecting general dollar's strength stemming from monetary policy differences," Jaroslaw Kosaty, a currency strategist at PKO BP, told Bloomberg. "The same tendencies are behind the weakness of emerging-market currencies and as such the euro's weakness versus the dollar points to general zloty weakness."
Kosaty forecast the zloty to weaken 5 percent from current levels to end the year at 3.8600 per dollar, while Raiffeisen Polbank analysts led by Dorota Strauch expect it to stay below 3.7000 in the coming days.