Top 3 Health Care ETFs Took in $1 Billion in July
(Bloomberg) -- ETF investors are finally returning to health-care stocks after disappointing first-quarter earnings and the threat of lower drug prices sent the sector plunging.
The three largest exchange-traded funds tracking the industry took in more than $1 billion last month. The Health Care Select Sector SPDR Fund, or XLV, accumulated $942 million of inflows in July, the most since February 2017, following three straight months of outflows. The iShares Global Healthcare ETF, or IXJ, gathered $215 million, its largest monthly inflow ever, on the heels of a flat June. And investors poured $38 million into the Vanguard Health Care ETF, known as VHT, after adding $33 million in June.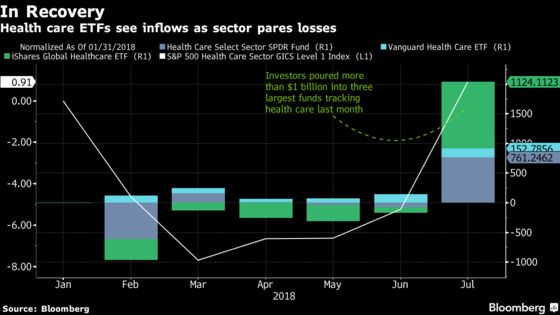 The S&P 500 Health Care Sector Index fell more than 12 percent from its all-time high on Jan. 26 to May 8, when it started its most recent ascent. The benchmark is now less than 1 percent from its record peak, and the health care group was the second best-performer among the S&P 500 last month, behind industrials.
The move may be part of a flight to safety as trade tensions have heightened this summer, according to Jared Holz, Jefferies Group health-care strategist.
"It's mostly a function of a rotation into safer and more defensive stocks given seasonality trends we have seen in the sector over the past five-to-10 years," he said. "The moves of some larger tech names could have moved money into health care, which is another sector widely viewed as growth."