Thailand Holds Key Rate as It Builds Case for Future Hike
(Bloomberg) -- Thailand's central bank left its benchmark interest rate unchanged near a record low as expected, and kept its rhetoric about the decreasing need for monetary policy to support the economy.
Six of the seven monetary policy committee members voted to hold the one-day bond repurchase rate at 1.5 percent, where it's been since 2015, according to a statement on the Bank of Thailand's website on Wednesday. One MPC member voted for a 25 basis-point increase. All 20 economists surveyed by Bloomberg predicted the rate would stay on hold.
Thailand's hefty foreign reserves and a current-account surplus have helped to shield the nation against the worst of the volatility engulfing emerging markets, giving the central bank more time to refrain from raising rates. But policy makers have started to lay the groundwork for rate hikes as inflation picks up and economic growth strengthens.
"The need to use an accommodative monetary policy will continue to lessen over time," Assistant Governor Jaturong Jantarangs said in a briefing in Bangkok. "But we can't say when is the trigger point."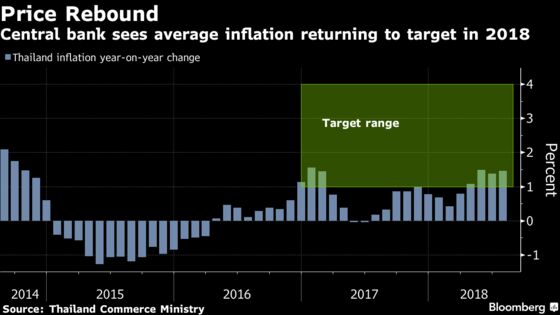 Gross domestic product data due this month and the inflation data for August will be crucial for the policy meeting next month, according to Tim Leelahaphan, a Standard Chartered Plc economist in Bangkok.
The central bank will probably raise rates if "overall economic activity over the period continued to gain traction from all components, especially private consumption and investment," Tim said in a note.
The export outlook is better than expected and the central bank hasn't yet seen the impact from rising global trade protectionism, Bank of Thailand's Jaturong said.
Economic growth was at a five-year high of 4.8 percent in the first quarter. Inflation is slowly rebounding and has returned to the central bank's target range of 1 percent to 4 percent since April.
Bank of Thailand said it is closely monitoring the currency's volatility and its impact on the economy. The baht was among the worst-performing Asian currencies in the past three months, dropping about 4 percent against the dollar.
"Looking ahead, the baht would likely remain volatile, and thus the committee would continue to closely monitor exchange-rate developments as well as impacts on the economy," the central bank said in the statement.
Neighbors like Indonesia and Malaysia have tightened policy this year while in the Philippines, the central bank is poised to deliver on its pledge for strong action on Thursday.
Bandid Nijathaworn, a former deputy governor at the Bank of Thailand, said real interest rates of about zero may be "too low" for an economy growing more than 4 percent. Policy makers need to "pre-empt inflation risk" by acting sooner rather than later on rates, he said in an interview on Tuesday.