Tesla Doing Its Part to Shrink Stock Market That Keeps Going Up
(Bloomberg) -- Tesla Inc. has never bought back a share of stock, but Elon Musk is doing his part to contribute to the ever-shrinking equity market.
In his account, quarter-obsessed analysts and deluded short sellers spurred the 47-year-old billionaire to propose taking his electric car-maker private yesterday, an action that could remove $65 billion in shares from listed venues. Buybacks are sapping an even bigger chunk of the market and may reach $1 trillion in the S&P 500 alone this year.
Whatever the cause, the U.S. stock market is getting smaller, a fact that elicits philosophical questions in some circles about why it exists at all. Those aside, analysts at Sanford C. Bernstein & Co., say the shrinking market isn't cause for alarm. It generates a tailwind for stocks in a bull market approaching its 10th anniversary.
"More often than not, corporates seem to have a better sense of their 'true' share price," the Bernstein researchers, including Inigo Fraser-Jenkins, wrote Wednesday. "So the current extreme low level of net issuance is very supportive for global equity markets over the next 12 months."
Musk, whose stock posted annualized gains of 47 percent since being offered in 2010, blamed short sellers for grossly undervaluing his electric-car maker and wrote in an email to employees that share price swings they fomented were a "major distraction" to Tesla workers. The stock jumped another 11 percent.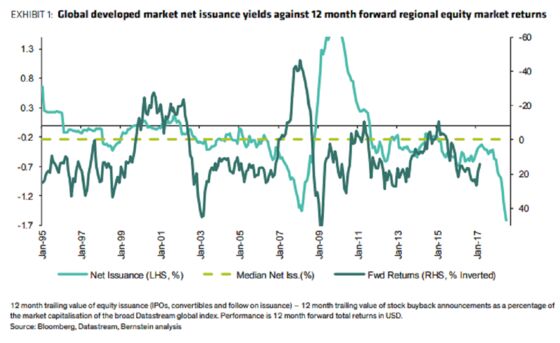 Elsewhere firms are yanking equity at a historic rate as buybacks march on uninterrupted. The spread between the value of buybacks and the value of equity offerings over the past 12 months stands at 1.6 percent of market capitalization, the most since at least 1995, according to data compiled by Bernstein.
An aging rally that's no longer moving in one direction has fueled repurchases and going-private talks, as executives question the public market's ability to assess company worth, according to Quincy Krosby, chief market strategist at Prudential Financial Inc.
"When a market is transitioning to be more selective as valuations go up, you have more companies thinking about this," she said. "When all is said and done, it's always to increase the value of the company."
Not unlike Musk and executives at Mylan who are considering options for the company, firms as of late have found public markets a poor mechanism for evaluating intangible assets like brand names or research and development, Rene Stulz, a professor of finance at the Ohio State University, wrote in a recent report for the National Bureau of Economic Research.
"If a firm invests in intangibles, it is much more difficult for its management to convince investors that it will make good use of its money," Stulz said. "It is much easier for such firms to provide detailed information to a handful of private equity investors who have specialized knowledge."