RBA's Lowe Sees Inflation Reaching Target in 2020, Rates on Hold
(Bloomberg) -- Australian central bank chief Philip Lowe said inflation is expected to reach the 2.5 percent target midpoint in 2020 and the interest-rate outlook is unchanged.
"We see reasonable prospects that the economy will record good growth, the unemployment rate will come down gradually and that inflation will increase over time," Lowe said in the text of a speech Wednesday. "If this is how things evolve, you could expect the next move in interest rates to be up, not down," he said, reiterating there was no strong case for a near-term change to policy.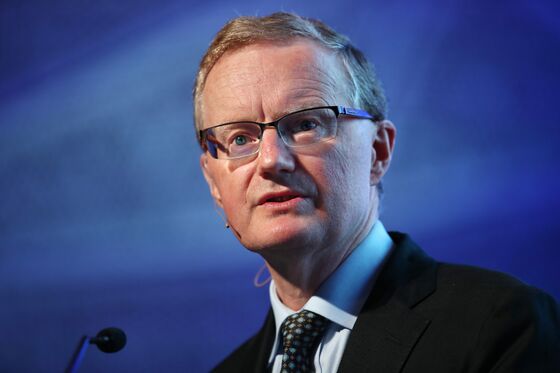 In his speech, Lowe mounted a strong defense of the nation's immigration program and its role in supporting economic growth. Citing the population hitting 25 million on Tuesday, the governor noted that Australia's median age of 37 is one of the youngest among advanced economies. More than 80 percent of net overseas migration has been accounted for by people under the age of 35, he said.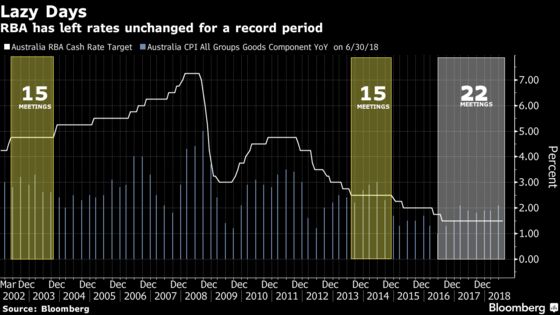 Lowe said the labor market is "gradually tightening" and would likely lift both wages and inflation at some point, reiterating that unemployment would fall to around 5 percent in the next couple of years from the current 5.4 percent. The Reserve Bank has kept rates at a record-low 1.5 percent for two years as it seeks to play an anchor role in the economy to encourage businesses to boost investment and hiring.
Lowe said employment strength was evident in increased job vacancies, with the number as a share of the labor force at the highest level "in many years." While he acknowledged that the desired full employment level -- currently estimated at a 5 percent jobless rate -- could eventually end up being lower, he was still confident pay would rise and inflation accelerate.
"If we were to make faster progress than we currently expect, any future increase in interest rates is likely to be earlier," he told an audience in Sydney. "Conversely, slower progress would likely see a longer period without" a change.
"For the time being, the Reserve Bank Board's judgement remains that the best course is to maintain the cash rate at its current level," Lowe said.
Australia's rapidly growing population, which hit 25 million some three decades earlier than the government forecast near the turn of the century, provides a basis for optimism about the future of the economy. The immigration program is fueling an increasingly strident debate, with opponents arguing it's changing the complexion of the country, pushing up house prices and driving down wages.
The governor noted that the step up in migration also reflects the increase in overseas students and policies around their visas. There are currently half a million students, and in recent times about one-sixth have stayed to live and work after completing their studies.
"This has boosted our population," Lowe said. "It has also boosted the nation's human capital. People living in Australia who were born overseas are more likely than the average Australian to have a post-secondary school qualification."
The governor also provided a quick picture of households, arguing their debt position was improving and risks in the financial system had been reduced through tighter lending standards. Australia's household debt to income ratio is 190 percent, among the world's highest.
Despite that, he said consumption growth would still be around 3 percent over the next couple of years.
"We do, though, need to keep a close eye on the housing market and housing finance," Lowe said.
The RBA will release its updated quarterly economic forecasts on Friday.