Mylan Is Weighing Options It May Not Have
(Bloomberg Opinion) -- Mylan NV had a surprise for investors on Wednesday to go along with the disappointing second-quarter results and slashed full-year guidance it reported:  The maker of EpiPens and a host of generic drugs said it's formed a committee to undertake a strategic review. It believes that its woebegone U.S. operations are causing investors to undervalue its more successful international unit, and every option is on the table. 
The problem is, many of Mylan's woes have to do with its own execution issues and market fundamentals. It's difficult to imagine what a committee could come up with to fix that.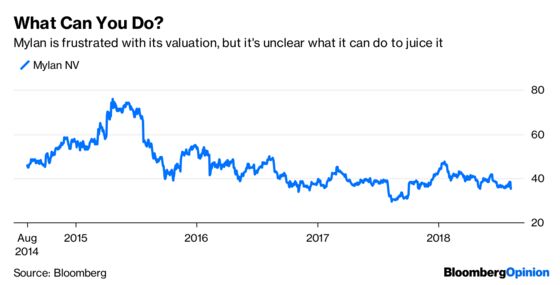 Prices have plunged and competition is getting increasingly fierce for many U.S. generic drugs. For Mylan, this contributed to a 22 percent year-over-year decline for its North American business, which was exacerbated by manufacturing issues and a weaker performance for EpiPen. 
Mylan is supposed to be somewhat insulated from the generic apocalypse, with a broad pipeline of complex and injectable drugs that should be safer from competition. It's a fine strategy, in theory. But Mylan hasn't been very good at it, and issues around gaining market access appear to be more widespread than it once anticipated. Investors have been waiting anxiously for the launch of highly lucrative complex generics, only to be informed of repeated delays.
Mylan was relying on these products to overcome pressure on older mediciness, and the guidance cut Wednesday is the bill for its overconfidence. Now, investors are being asked to trust that management can come up with a good plan. But the truth is, the delays have done more than make an embarrassing hash of the firm's forecast — they've permanently reduced the firm's sales potential.
Even the star generic the company has launched, multiple-sclerosis drug Copaxone, hasn't consistently done as well as hoped. Mylan has also invested heavily in biosimilars, the equivalent of generic medicines for complex medicines made in cells, but early returns have been limited and the market is crowded. 
Given all this, it's hard to see why anyone would line up to pay a premium to acquire Mylan, especially at a time when several other firms are looking to get rid of generic businesses. Going private to try to weather the storm could be an option. But the above issues, the size of the transaction, and the company's substantial debt load make it an unlikely one.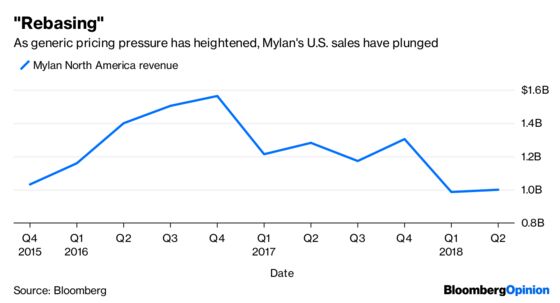 Splitting up the business would also be tough. A solo U.S. or generics unit would have even greater exposure to the current messy pricing environment, so there'd be less of an incentive for investors to purchase such a business or its component parts. And while the international/consumer business would be more attractive as a stand-alone,  it would be relatively small, with limited exposure to the world's most important drug market. 
On a conference call Wednesday, Mylan executives pointed a lot of fingers as they sought to explain how the company got to where it is: at investors for undervaluing the business, at the U.S. health-care system for not delivering it the market share it feels entitled to, and so on. Fewer excuses and better execution are more likely to bolster Mylan's valuation than any engineering project they can think of. 
This column does not necessarily reflect the opinion of the editorial board or Bloomberg LP and its owners.
Max Nisen is a Bloomberg Opinion columnist covering biotech, pharma and health care. He previously wrote about management and corporate strategy for Quartz and Business Insider.