Iconix Reviewing Financing Options, Starts Investor Talks
(Bloomberg) -- Iconix Brand Group Inc. says it's reviewing all options to address debt that's coming due, including a new securitization facility, and plans to talk to its investors in the coming quarters.
On a conference call to discuss second quarter results, interim Chief Executive Officer Peter Cuneo said Iconix is working with Guggenheim as a financial adviser to review its financing options for near-term debt maturities.
Iconix's second-lien convertible bonds last traded at 64.7 cents on the dollar July 25, according to Trace bond trading data, down from 71 on June 14. The company had $95.6 million of cash on hand at the end of the quarter, $55.8 million of which was in the U.S. and unrestricted, management said.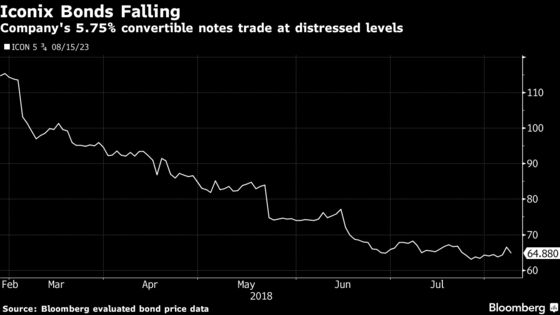 Iconix's debt balance at the end of the second quarter decreased by around $15 million from the first quarter to $789 million. The company's $486 million securitization facility matures in January 2020, said Chief Financial Officer Dave Jones on the call.
The company also has $111 million of 5.75 percent second-lien convertible notes issued earlier this year, with the first interest payment due Aug. 15. That will be paid in stock, Jones said. The notes, unless otherwise converted into stock, will mature in 2023. The company's debt also includes a $191 million senior secured term loan due in August 2022.
Iconix is open to reviewing proposals to buy other brands, which it has done in the past to pay down debt. Right now, "we're finding that people are not willing to pay the kinds of multiples we would like to get," CFO Jones said on the call.