Fossil's Wearable Device Push Underpins Sales, Driving Up Shares
(Bloomberg) -- Fossil Group Inc.'s efforts to turn around a three-year sales decline are making headway.
Comparable sales, a closely-watched measure, were flat last quarter, while analysts predicted a decline. While revenue fell in the period, it still topped projections, sending the shares up as much as 12 percent Wednesday morning.
Fossil, which makes watches under its own brands and also for Michael Kors, Armani and other labels, is betting on wearable devices to spur revenue growth. Sales of so-called connected watches rose in all regions, while traditional watches declined, the company said in a statement late Tuesday.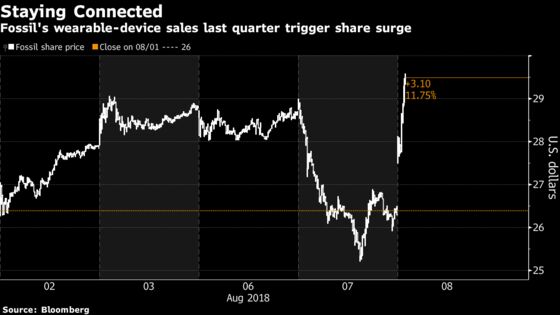 "While overall sales were down as expected, we generated solid growth in wearables," Chief Executive Officer Kosta Kartsotis said. "The transformation of our business continues to yield positive results."
The shares rose as high as $29.59 in New York Wednesday, the biggest intraday gain in three months. They have more than tripled this year, a stark turnaround from a 70 percent slide in 2017.
Analysts had estimated an 0.6 percent drop in second-quarter same-store sales, a key metric, according to Consensus Metrix.
The company is bracing for possible reverberations from the Trump administration's proposed tariffs against major trading partners. Chief Financial Officer Jeffrey Boyer said levies would affect two parts of Fossil's business -- leather and smartwatches.
"Hopefully, it's just a threat at this point, but we are anticipating there could be some impact," Boyer said. "We are working hard on all the levers we can pull from manufacturing, sourcing across our supply chain."
Any potential impact wouldn't affect its inventory this year, but poses an issue for 2019, Boyer said.
The company posted sales of $576.6 million, exceeding projections for $562 million. Fossil had a loss of 16 cents a share in the period, while analysts estimated a loss of 57 cents.
In July, Fossil announced an agreement with BMW to design and develop traditional watches and smartwatches, with the first BMW-branded watch collection becoming available as early as next year.