Disney's Fox Union Has Analysts Bullish on a Streaming Future
(Bloomberg) -- Walt Disney Co. is battling an ever-changing media industry, and a third-quarter earnings miss underscores the need to ramp its competitive efforts against consumer-friendly peers like Netflix Inc.
The miss motivated a 2.2 percent stock drop on Wednesday, though Wall Street is ignoring near-term pressures and looking to better days after encouraging words from Chief Executive Officer Bob Iger on the earnings call. BMO Capital and Bernstein boosted price targets in anticipation of a brighter streaming future with the integration of 21st Century Fox Inc.'s entertainment assets.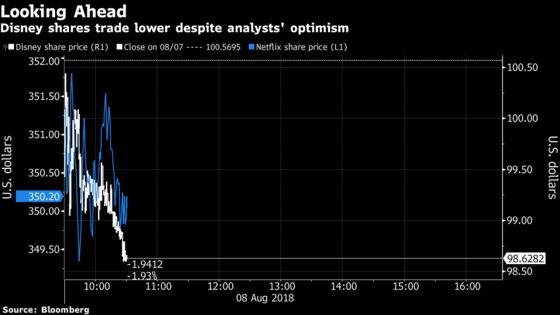 Here's what analysts are saying:
BMO Capital Markets, Daniel Salmon
Although Disney's third-quarter adjusted EPS, total revenue and operating income missed expectations, Salmon says there were a few points on the direct-to-consumer (DTC) strategy that kept bulls happy.
Bulls are looking forward to the possibility that Disney's streaming products -- including Hulu, ESPN+ and the forthcoming Disney-branded service -- may be bundled.
BMO remains on the sidelines as the share buyback has been halted, TV/film licensing revenue could be volatile ahead of the Disney-branded DTC launch, and consumer licensing and retail face headwinds.
Market perform, boosts PT to $110 from $100
Disney missed EPS for its fiscal third quarter on lower cost/margins at studios and consumer products, partially offset by media networks margins.
Juenger says much was revealed on the earnings call as the "light frequency, heavy content" strategy is coming into better focus.
Has better understanding how the free cash flow/earnings-per-share hit will ramp more slowly than we had thought. "The bad news is, the Disney service therefore looks much narrower, much less exclusive, and will be missing more key content altogether than we had thought."
Market perform, price target $113 from $102
Most of Bob Iger's comments on the earnings call revolved around its DTC strategy in a post-Fox world, which answered several open questions, according to Martin. And, it is Disney's view that "brands matter in the cluttered OTT environment."
Disney believes consumers want smaller bundles, as they've seen domestic subscriber losses moderate in each quarter for the past four quarters to faster adoption of smaller bundles from virtual multi-video programming distributors -- a market where Disney gets paid per subscriber.
Martin notes that Fox's entertainment assets add a large international footprint to Disney's revenue streams, as the U.S. television market is "secularly challenged."
Hold, price target not available