Argentina's Century Bond Falls to a Record Low
(Bloomberg) -- Argentina's century bonds fell to a record and the peso sunk to a two-week low as concern grows that a widening graft scandal will derail government efforts to shore up the economy.
Yields on the overseas debt due due in 2117 edged up to 9.14 percent early Wednesday, bringing the increase to 0.18 percentage point since July 31, when journalists at La Nacion newspaper published the findings of an investigation into more than a decade of alleged corruption under former President Cristina Fernandez de Kirchner and her late husband.
The peso has weakened 0.5 percent in that span to 27.57 per dollar. The Merval benchmark stock index fell 1 percent Wednesday, extending the decline this month to 6 percent.
So far, more than a dozen business executives and government officials have been arrested in relation to the investigation into whether businesses paid bribes for public-works contracts, and at least one company has canceled a bond sale because of the turmoil it's created. Investors are concerned that the fallout from the probe could grow to the point it resembles the Car Wash corruption scandal that upended Brazil's government and business community in recent years and contributed to a painful recession.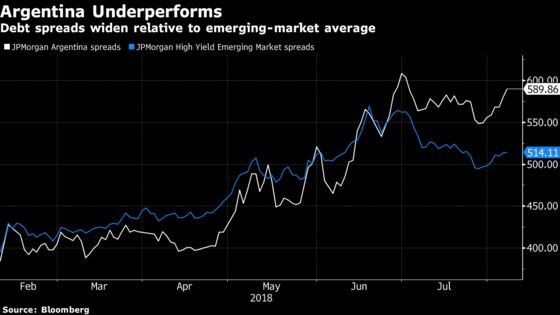 Argentina is already dealing with a shrinking economy, battling inflation approaching 30 percent and trying to claw its way out of a currency rout that made the peso the worst performer in emerging markets this year. Argentina turned to the International Monetary Fund in May for a $50 billion credit line and began drawing on it in June in an effort to calm investors.
The probe will derail growth if infrastructure works are paralyzed by the rising cost of borrowing and as companies whose executives are accused of participating in the graft scheme get caught up in the mess, according to Eduardo Hecker, a former chief of the local securities regulator, Comision Nacional de Valores.
"The Argentine regulator should intervene quickly in a preventive way" and ask companies to disclose any involvement in the investigation, Hecker, who now runs the consulting company DEL, said in an interview. "If they remain without intervening to protect investors, the economy will suffer badly."