U.K. House Prices Rose to Record High in July, Halifax Says
(Bloomberg) -- U.K. home prices climbed last month, pushing the average value to a record high.
Prices rose 1.4 percent from June, mortgage lender Halifax said in a report Tuesday. On an annual basis, the growth rate climbed to 3.3 percent in the three months to July, the most this year, and up from 1.8 percent in the period to June.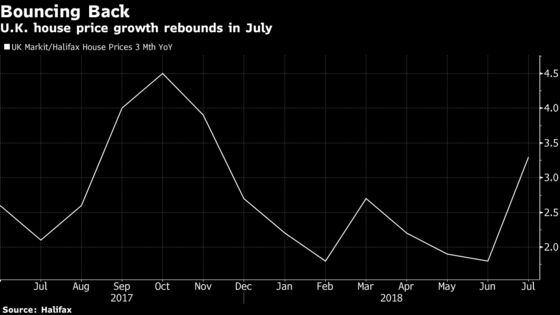 The report, which follows similar findings from Nationwide Building Society last week, suggests housing bucked its recent trend in July. The market has lost momentum in recent years, with London seeing particular softness, as Brexit and slower growth dent demand and after a three-decade boom left valuations stretched.
The Bank of England, which hiked interest rates for the second time in a year last week, noted the slowdown in its August Inflation Report but said prices were likely to start to pick up again by mid-2019.
The average U.K. home price is now a record 230,280 pounds ($298,420), Halifax said. Still the lender also observed that while prices have picked up, market activity remained soft.