Turkish Bond Yields Surge to a Record as Lira Gets a Respite
(Bloomberg) -- After the lira, it's the turn of Turkish government bonds.
The nation's benchmark 10-year notes slid, sending yields to a record high, as investors increasingly concerned by a lack of central bank moves to backstop the nation's assets sought higher risk premiums. The lira won a brief respite after slumping the most since an attempted military coup in 2016.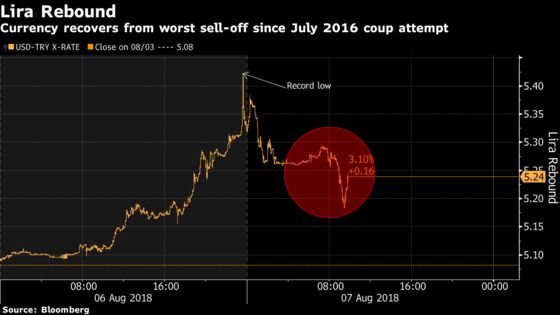 Turkish assets have come under fire amid heightened concern over a diplomatic spat with the U.S., and the central bank's inability to support the currency against accelerating inflation as well as one of the widest current-account deficits in emerging markets. The lira has weakened around 27 percent this year and the yield on 10-year bonds has surged more than 800 basis points.
"It's getting nastier," Henrik Gullberg, a strategist at Nomura Plc., said by email. "And it will remain like this until the central bank commits unconditionally to hike rates and keep them high until inflation has turned. The market needs that sort of hard commitment."
The 10-year bond yield jumped 24 basis points to 19.91 percent Tuesday, the highest since Turkey first issued debt of this maturity in 2010. The lira strengthened 2.4 percent to 5.2127 per dollar. It slumped 4.6 percent on Monday, the most since 2016, after reaching 5.4222, the weakest on record.
The market rout comes as Turkey prepares to auction five-year fixed-coupon and 10-year inflation-linked bonds later Tuesday. The Treasury lowered its planned borrowing targets for August and September after months of loose fiscal policy and heavy bond supply that have weighed on demand. It plans to borrow a total 10.8 billion liras ($2.1 billion) in August, down from a 12.2 billion liras, according to the Treasury's latest borrowing strategy.
For the rot in the nation's assets to stop, the central bank needs to do more than just raise rates, according to Nomura.
"So bottom line is the central bank needs to hike rates to 20 percent or above, and tell markets that we will not be afraid of hiking further and keeping real rates high until inflation has clearly turned," Gullberg said. "Anything but that sort of hard commitment will not be effective."