Pandora Analysts Cut Ratings, Doubt CEO's Future After Warning
(Bloomberg) -- Pandora A/S analysts said they have lost faith in the company's management after the jewelry maker cut its 2018 forecast without giving a reason for the poorer outlook. The warning prompted downgrades from Sydbank and Nordea, while Nordnet said trust in management "is gone, completely gone."
Shares fell as much as 20 percent in early trading in Copenhagen. The warning on sales and profit targets came just seven months after the company set new lower growth goals which Chief Executive Officer Anders Colding Friis at the time described as "realistic."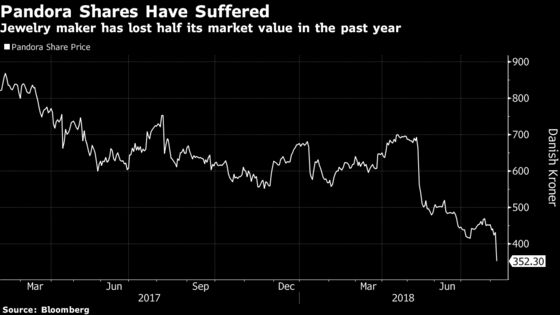 Here's what analysts had to say about the latest warning from the jewelry maker.

Sydbank, Soren Lontoft Hansen
Profit warning creates "large uncertainties over future sales growth and earnings levels."
Says some in market had expected a profit warning but not as big as the one Pandora delivered, and the cut leads to "increased mistrust" in signals from management. Also expects Pandora will have to lower its long-term goals.
Profit warning is "worrying" because Pandora usually makes most of its money in the second half of the year. One of the reasons for the cut could be that Pandora rapidly loses economies of scale in individual stores when growth stalls.
Nordnet investment economist Per Hansen
Trust in Pandora's management "is gone, completely gone." Pressure is now on Pandora's board to find a new CEO who needs to have a humble attitude and show results.
The cut will "put the continuity of the management team and the Board in question."
Says that challenges in key growth markets including China are the likely reason for cut and sees "even more negative share price reaction" than the size of the profit warning would otherwise suggest due to new uncertainty over long-term goals.
Profit warning will lead to 8%-9% cut in market's 2018 estimates and will be a negative share price catalyst.
Raises questions over Pandora's strategy of buying out franchise owners and opening new stores. Says management's ability to deliver "now under close scrutiny."