Faster Euro-Area Wages Signal Inflation Will Return, ECB Says
(Bloomberg) -- The recent acceleration in wage growth in the euro zone is a harbinger of higher future inflation, the European Central Bank said on Tuesday.
The article in the ECB's Economic Bulletin seeks to dispel concern that pay rises have lost their signaling function for future price gains. While wage increases in the 19-nation currency area have picked up in the last two years, they have largely been offset by productivity gains, keeping unit labor costs flat.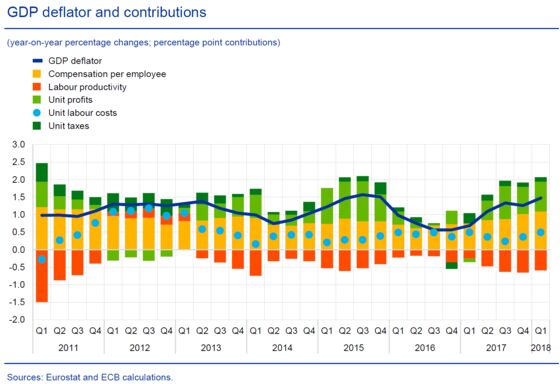 The ECB is on the look out for signs that inflation pressures are building as it prepare to end its bond buying plan later this year. While a pick up in energy prices has pushed price gains above policy makers' goal for now, officials expect an "ongoing solid and broad-based economic growth" that will bolster wages and produce the right kind of inflation down the line.
To assess the pass through from pay growth to inflation, ECB researchers ran a model to see how wages and unit labor costs respond to a demand shock and how this shock impacts the GDP deflator -- a measure of inflation within the economy.
According to their findings, in a demand-driven shock "the upward price pressures are initially only correctly signaled by compensation per employee, while unit labor cost developments in the first few quarters even provide contradictory signals." That differs from a supply shock, where the increase in unit labor costs is immediate.
"The constellation of developments in the components of the GDP deflator over the past two years resembles that of a more demand-driven pick-up in wages," the article said. "This is in line with the strong output and employment growth observed in recent quarters, and implies that the increase in wage growth reflects the relevant signal concerning upward cost pressures on underlying inflation."