Diebold's Having a Rough August. Here's Why It May Get Worse
(Bloomberg) -- If only Diebold Nixdorf Inc. could draw on the ATMs it manufactures to stave off what some analysts see as a potential liquidity crisis.
The company has to buy $160 million worth of shares of the company formerly known as Wincor Nixdorf AG, the German rival that Diebold bought most of in a 2016 takeover. North Canton, Ohio-based Diebold said in a filing Monday that it was using cash and tapping its revolving credit line to buy back the shares, sending its bonds to record lows.
The revolver drawdown comes just after Diebold reported an unexpected second-quarter loss, slashed annual guidance, and said it's talking to lenders about amending its credit agreement as a result. All of this has resulted in a more than 20 cent-on-the-dollar-plunge in its 8.5 percent bonds over the past week.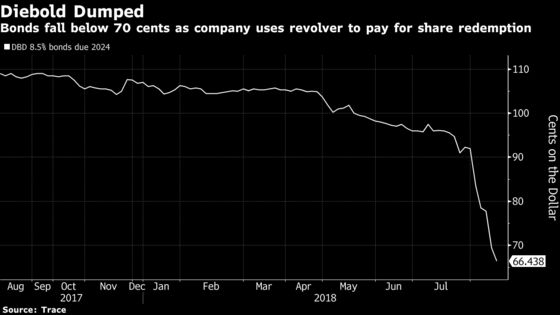 The situation may get worse: there are about another $280 million of Wincor Nixdorf shares that Diebold could have to buy back, an event that would potentially "force a liquidity crisis," JPMorgan Chase & Co. analyst Paul Coster said in a note Monday. The most obvious solution to that crisis -- selling more stock -- would dilute current shareholders, Coster wrote as he downgraded the stock to underweight from neutral.
If the company relied on debt to finance its share buybacks, and assuming an adjusted measure of its earnings was at the low end of management's full year guidance of $280 million, its net debt would rise to around 7 times earnings before interest, taxes, depreciation and amortization.
Diebold is trying to negotiate easier terms with its lenders, the second change in four months, to allow for greater leverage in its debt covenants. Right now, it is permitted to have net debt equal to 4.75 times adjusted Ebitda. It is not clear if this adjusted Ebitda figure is directly comparable with the one the company gave in its results. The company expects to violate that test at the end of the third quarter of this year.
Moody's Investors Service downgraded Diebold two levels to B3, six steps below investment grade, with a negative outlook, it said Tuesday. The company's bonds due in 2024 fell even further and were trading at 66.44 cents on the dollar as of around 12:40 p.m. in New York.
Drawing down a revolver can be a red flag to investors when a company has the cash to meet its needs, potentially signaling that it doubts the borrowing facility will be available if its financial condition deteriorates. Diebold had $299 million of cash at the end of June, with $380 million available under the revolver.
Another painful factor for bondholders is that Diebold's capital structure is very top-heavy with bank debt. Of the company's $1.8 billion of long-term debt, more than three fourths is comprised of loans including the revolver. If the company failed, those loans would be due to be repaid before the $400 million of unsecured bonds.
A spokesman for Diebold did not reply to requests for comment.
Diebold, like its competitor NCR Corp., has struggled this year as consumers increasingly make payments online and through mobile apps like Venmo, diminishing the need for cash and the machines that dispense it. Both companies have recently announced plans to streamline their businesses and have seen their market valuations sink.
The industry could see a refresh cycle of sorts in 2020, the deadline to upgrade to Microsoft Inc.'s Windows 10. That would mean more business for Diebold and NCR, which would have to install new machines and service the updated software that comes with it.