U.S. Women Are Outpacing Men in Higher Education
(Bloomberg) -- Woman are outpacing men in attaining a college education and advanced degrees, according U.S. Census Bureau data for 2017.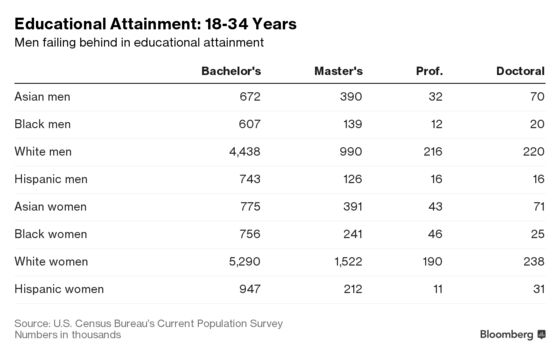 As of 2017, women between ages 18 and 24 earned more than two-thirds of all master's degrees, meaning there were 167 women with master's degrees for every 100 men.
Among professional degrees, women in the same age cohort obtained three-quarters of professional degrees and 80 percent of doctoral degrees.
Women between ages 25 and 34 held the majority of doctoral degrees.
The number of Asian women with a master's or doctoral degree surpassed that of Asian men.
Women have had an advantage of earning the majority of master's degrees in the U.S. since 1981.