Subaru Joins Toyota in Expecting 'Big Impact' From U.S. Auto Tax
(Bloomberg) -- Subaru Corp. reported a sales slide in the U.S., its largest market, and predicted a "big impact" from President Donald Trump's proposed tariffs on imported vehicles following the escalation of a global trade war.
Unit sales in the U.S. dropped about 14 percent to 149,800 vehicles in the three months through June 30, the company said in a presentation Monday. For the year that ended in March, only half of the 670,900 vehicles it sold in the U.S. were produced locally, meaning that the remaining units, imported from Japan, would be subject to any additional import taxes put in place by the Trump administration.
Subaru joins its largest shareholder Toyota Motor Corp. in warning about repercussions from a potential U.S. auto import tariff, echoing sentiments from global peers including General Motors Co. Amid escalating tensions with trading partners from Canada to Europe and China, the U.S. Commerce Department is probing whether imports of passenger vehicles imperil national security, and Trump has threatened a tariff on autos and parts of as high as 25 percent.
"It's a fact that there would be a big impact from a U.S. tariff increase," Chief Financial Officer Toshiaki Okada said at a briefing in Tokyo. "We're studying what the impact might be but there are too many unknowns at this point, so we want to refrain from giving a specific figure."
The company is also examining how it can control spending on incentives in the U.S., Okada said.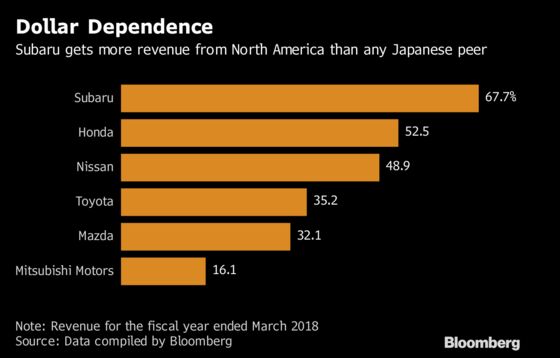 The CFO said Subaru faces severe competition in China, where unit sales dropped about 58 percent to 3,400 vehicles in the fiscal first quarter.
Subaru maintained its outlook for the yen to trade at 105 to the dollar for its full-year forecasts. The company expects operating profit to fall 21 percent to 300 billion yen ($2.7 billion) in the year ending March 31. That's less than analysts' projection of 357.7 billion yen, based on the average of estimates compiled by Bloomberg.