Tough Sanctions Bill Sparks Deeper Losses for Ruble, Local Bonds
(Bloomberg) -- The ruble and Russian local bonds retreated after a group of U.S. senators introduced new legislation seeking sanctions on the nation's sovereign debt in punishment for alleged U.S. elections meddling.
The currency extended its drop to trade down by as much as 0.9 percent against the dollar and bond yields jumped to the highest level since July last year. Republican Senator Lindsey Graham of South Carolina said in a statement Thursday that the senators' goal is to "impose crushing sanctions" until President Vladimir Putin stops elections interference, cyberattacks and removes Russia from Ukraine.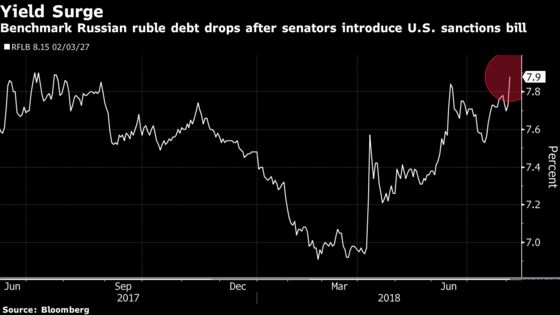 Renewed discussion of the proposal is denting appetite for Russian assets, even though investors don't think the bill is likely to pass into law, in large part because the U.S. Treasury has warned against it. Analysts at Citigroup Inc. estimated in a research note on Wednesday that the ruble could plunge 15 percent if the penalties blocked foreign ownership of existing Russian debt as well as new issues.
"I would anticipate incremental rather than 'crushing' sanctions,"' said Richard Segal, a senior analyst at Manulife Asset Management Ltd. in London. "The Senate has to initiate severe legislation, because both parties have to be seen to be tough on Russia with elections a few months away."
The proposed legislation would also impose new sanctions on oligarchs and political figures who aid corrupt activities on Putin's behalf, and require the State Department to determine whether Russia should be designated as a state sponsor of terrorism.
Yields on debt due in February 2027 rose 15 basis points to the highest since July last year.
Lawmakers from both parties also have been critical of President Donald Trump's meeting with Putin in Helsinki last month, saying Trump hasn't done enough to hold Russia accountable.