Jes Staley's Silent Partner Is Watching
(Bloomberg Opinion) -- One of the first questions thrown at Barclays boss Jes Staley after a forecast-beating set of quarterly results was whether he had met activist investor Edward Bramson, whose stake in the bank was revealed earlier this year. They have met, it turns out, but the conversation sounded a bit one-way: "He has not outlined what his strategy is to us."
Activist pressures don't have to be explicit to focus the mind. The obvious sticking point for Staley's turnaround mission even before Bramson's arrival was Barclays' investment bank, a division that the CEO has stuck by through thick and thin despite weak returns. That's where investors want to see evidence of a sustained turnaround. Bramson doesn't have to say anything to keep Staley on his toes and delivering on targets – the pressure was there before he turned up.
The second quarter probably helped Staley's case against his silent partner. It was a blowout three months for Barclays' trading desks, which delivered 11 percent growth in revenue, better than that achieved by Wall Street's finest. Equities brought in almost as much money as fixed income, which is rare. New investment-bank boss Tim Throsby, formerly global head of equities at JPMorgan Chase & Co., is overseeing gains in market share.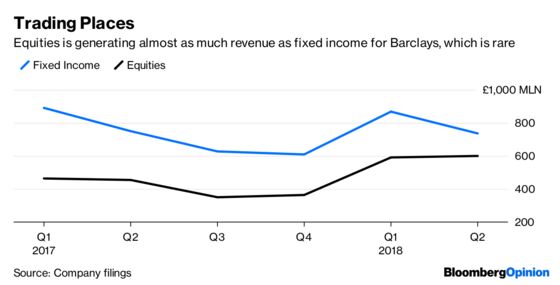 But betting on future results still requires some faith. Barclays shares erased their gains on Thursday on the back of some cautious comments on trading in July, apparently not a very active month. And below the revenue line, there's still some work to do on the investment bank's profit power. Earnings were down 10 percent year-on-year at the division. Expenses rose, and ate up about 69 percent of revenue, slightly more than year-ago levels. Return on tangible equity was 9.1 percent, below the group average.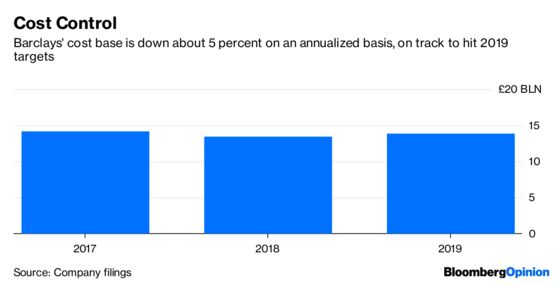 There does seem to be confidence that costs can be brought down further without hurting revenue, which would reassure investors. A lot of trading businesses have gone through an automation wave, but there are plenty of other areas where bank executives are preparing to wield the ax. The swelling of compliance departments and support staff since the financial crisis, for example, appears ripe for a technology-driven reversal. Throsby told the Financial Times in June: "If your job involves a lot of keyboard hitting then you're less likely to have a happy future."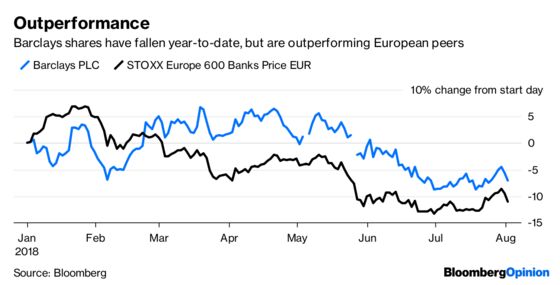 Still, this does point to a firm that needs to build up a better track record of performance before investors truly get on board with talk of better dividends and share buybacks. At group level, results were flattered by a lower litigation bill and a fall in loan losses, not just by Staley's restructuring efforts. Barclays shares have fallen about 6 percent year-to-date, less than European peers, but still carry a steep 40 percent discount to book value. Bramson will no doubt be watching closely for any slip-ups. If the benign market backdrop gets worse, he may decide to opt for a more vocal strategy to get Barclays' bankers into line.
This column does not necessarily reflect the opinion of the editorial board or Bloomberg LP and its owners.
Lionel Laurent is a Bloomberg Opinion columnist covering finance and markets. He previously worked at Reuters and Forbes.