Ample Food Supplies Spur Biggest Drop in Prices This Year
(Bloomberg) -- Food costs are starting to buckle under the weight of too much supply, with a gauge of global prices slumping by the most this year.
The United Nations' food price index dropped 3.7 percent in July, a month after trade war tensions helped push prices down for the first time since January. Dairy-product and sugar prices fell the most last month amid better production prospects or ample export supplies. Even concerns about wheat output on the back of drought in major growers wasn't enough to stop grain costs slipping.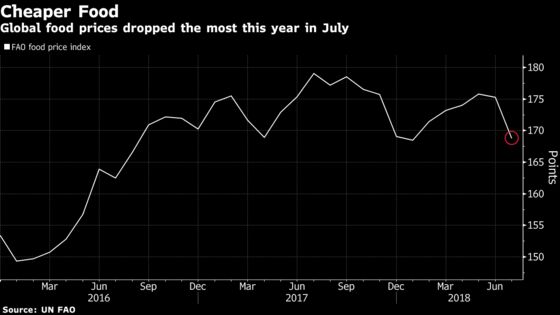 Prices fell across all food groups, with vegetable-oil costs hitting a 2 1/2-year low and a gauge of sugar sliding on improving crop outlooks in key producers such as India and Thailand. That's good news for consumers who've faced higher bills in recent years, as well as central bankers trying to curb inflation.
The food-price index fell to 168.8 points in July, the UN's Food and Agriculture Organization said in a report Thursday. That's still about 13 percent above a seven-year low set in early 2016.
Month-on-month changes for each food gauge:
Grains fell 3.6 percent
Vegetable oil lost 2.9 percent
Meat declined 1.9 percent
Dairy dropped 6.6 percent
Sugar slid 6 percent