Altice Sinks as Cost of Luring Customers Weighs on Cash Flow
(Bloomberg) -- Altice Europe NV fell the most in more than eight months after billionaire Patrick Drahi's phone company laid bare the cost of recent broadband and mobile subscriber growth, underscoring concerns over its 32 billion-euro ($37 billion) debt pile.
The carrier's flagship French business, SFR, added 211,000 mobile subscribers, which it chalked up to network investments and better customer service. The gains came at the cost of higher spending on acquiring and keeping clients, however. The company predicted free cash flow for its French unit at the low end of its forecast of 1.5 billion euros to 1.6 billion euros.
Winning back market share is a cornerstone of the Franco-Israeli dealmaker's plan to return the European business to earnings growth and ease investor worries about the company's debt load. Drahi has shuffled management, sold assets and spun off Altice's U.S. cable-TV business after a stock slump late last year. Concerns about the Amsterdam-based company's ability to repay debt had subsided after it pushed back maturities.
The stock fell as much as 15 percent, the steepest intraday decline since Nov. 14, and was trading 12 percent lower to 2.52 euros at 10:56 a.m. in Paris. Altice's shares are volatile due to the company's high leverage and wide swings are common.
"It appears that SFR's recovery is still driven by heavy acquisition costs," Bryan Garnier analyst Thomas Coudry said in an email. "The revenue trend in France, below expectations, still raises questions."
The positive customer momentum for Altice comes as low-cost rival Iliad SA is struggling in France and has expanded into Italy in pursuit of growth. A record number of wireless customers left Iliad for Orange SA in the second quarter, Bloomberg News reported on Tuesday. Investors are watching France's four main carriers closely amid speculation that one will be bought out by a rival, reducing the number to three.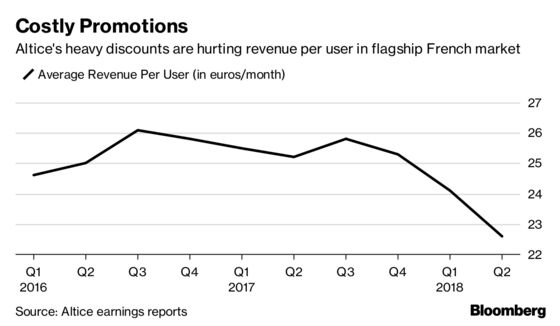 Adjusted for one-time items, earnings before interest, taxes, depreciation and amortization fell 10 percent in the quarter to 1.32 billion euros, just beating the 1.3 billion-euro average analyst estimate compiled by the company.
Intense competition in France drove down Altice's average revenue per mobile post-paid user to 22.6 euros a month in the quarter from 25.2 euros a year earlier. The company added 56,000 fiber or cable broadband customers in the second quarter.
"To increase revenue, we need to recruit clients that we have lost," Chief Executive Officer Alain Weill said on a call with reporters. "But this year of transformation is the only way that we have before we can grow revenue again."
The company's bonds also fell Thursday. Altice's 675 million euros of notes due 2028 dropped 1 cent on the euro for the fifth day to 86 cents, the lowest in a month, according to data compiled by Bloomberg.
"They've pulled back fixed subscribers but the cost of winning them has been higher than expected," said Henry Craik-White, a portfolio manager at Wells Fargo Asset Management which manages more than $494 billion in assets. "The market is more competitive than they'd bet on originally."
Altice's results follow Orange SA's better-than-expected earnings, which were boosted by solid growth in Spain. Bouygues SA's telecom unit and Iliad are scheduled to report earnings on Aug. 30 and Sept. 4 respectively.